---
A culture of innovation is key to exploring new frontiers of economic recovery and resilience
Blog: NASSCOM Official Blog
I have always been fascinated by astronomy. To me there are few things as exciting as gazing into the night sky, trying to understand the mysteries hidden in the patterns of stars above. The lockdown presented a perfect opportunity for me to spare some time to indulge in my passion. It is a challenging activity in which you are trying to capture stars, galaxies, planets which are very far away, which requires innovative approaches from present day digital cameras and telescopes.
Similarly, the COVID-19 pandemic has driven many businesses to reinvent themselves and try new ways of doing things to cope with the crisis. From recovering from the impact of the pandemic to leveraging digital capabilities to respond to new market challenges, businesses in India and across the globe are now reimagining ways to remain resilient in the new normal. For example, organizations everywhere have embraced digital tools to empower their people to continue collaborating and connecting. As Microsoft CEO Satya Nadella said during our FY21 Q1 earnings call in October, the next decade of economic performance for every business will be defined by the speed of their digital transformation.
A new study, "Culture of Innovation: Foundation for business resilience and economic recovery in Asia Pacific," commissioned with IDC Asia Pacific, surveyed business decision-makers and workers across the region, including India. It found that fostering an environment where continuous innovation can thrive is the key to long-term resilience and success.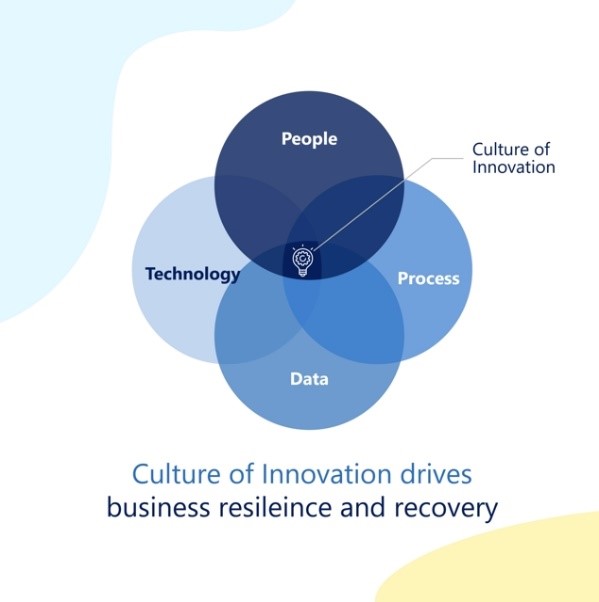 The report defines Culture of Innovation as the ongoing ability of organizations to respond quickly to challenges. It results from combining four key aspects: people, data, processes, and technology. As COVID-19 spread around the world, more and more leaders I spoke to across India were saying that they no longer viewed innovation as a luxury but as a necessity for survival. The research bears this out– it found that fostering an environment where continuous innovation can thrive is the key to long-term resilience and success.
77% of Indian organizations have found innovation to be critical or important to their performance and resilience. Moreover, the pandemic has accelerated the evolution toward innovation, with companies in India maturing by 4% in their journeys over the last six months.
In the report, businesses were grouped in four stages– 1. Traditionalist, 2. Novice, 3. Adaptor and 4. Leaders (stage 4). According to the study, leaders comprise of organizations that are the most mature in building a culture of innovation. The study also revealed that 64% of business surveyed in India found it easier to innovate now, as against 32.5% prior to the onset of COVID-19, demonstrating overall confidence in their abilities.
The study reports that 78% of organizations in India are accelerating the pace of digital technologies in response to the crisis. Indian companies are also aiming at increasing their revenue from digital products and services to 50% in the next 3 years from 36% at present.
What is the star combination for innovative organizations?
Earlier, I mentioned the four dimensions of a Culture of Innovation: people, data, processes, and technology. While all are crucial, let's take a closer look at technology. Technology– according to the survey– is the area that organizations in both Asia Pacific and India need to prioritize to ensure business resilience and performance in the future. The study reports that 78% of organizations in India are accelerating the pace of digitalization in response to the crisis.
While companies view digital transformation as essential to business recovery, firms should not neglect other areas of building a Culture of Innovation, especially people. Nurturing the right culture that encourages disruptive ideas and skilled talent is an equally important priority.  As work, school, healthcare, and even social activities shifted to a remote model, organizations raced to bring people together despite lockdowns by adopting digital tools such as cloud services, mobile technology, and video-conferencing apps. Those who had the technology in place and people empowered to harness its potential in response to the crisis clearly had the advantage.
Since COVID-19, more organizations have recognized the importance of developing their workforces to embrace technology for effective innovation. However, digitalization, turbo-charged by the pandemic, has brought focus on bridging the skills gap during the new normal. Training and upskilling the workforce with digital, creative, and collaborative skills is necessary and urgent. In the next 12 months, 18.5% businesses in India plan to focus on embracing risks and driving innovation through ongoing learning, and the right talent and skills.
Other things leaders can do is incentivize employees for innovative and long-term contributions, and not focus simply on short-term tasks and performance. Innovation must become a corporate value that is embedded everywhere, at all levels. It is also imperative to attract and retain the right talent from diverse backgrounds, and there is no better time than now. Getting there requires patience. It is not like a new technology that can be rolled out quickly and turned on with the flick of a switch. It requires thoughtfulness and empathy to ensure that everyone is included in the journey and feels they have something to contribute.
The need for continual refinement and growth
Many companies have worked long and hard to achieve a mature Culture of Innovation– a process of exponential and continuous change. Others are well on their way. It's a process that never stops. A constant feedback loop where the organization hears from its people and allows grass-root ideas to flourish is also critical.
All great astronomers, from Galileo Galilei to Edwin Hubble to Carl Sagan have acknowledged that the human understanding of the cosmos improved through generations of experimentation, innovation, and patience. In the same way, organizations must not be complacent but seek constant improvement in the four areas– people, data, processes, and technology. It is worth noting that 31% of organizations in India expect their current business models to be uncompetitive within five years. This explains their relentless focus on reinvention and embracing new ways of working.
Business need to fortify resilience with technologies viz. cloud, artificial intelligence and machine learning and strengthening cybersecurity; invest in people's capabilities and skills to accelerate transformation; leverage data in developing new data-driven products and services and revenue streams to increase competitiveness; and redesign processes to empower people and customers, and to continuously drive innovation. A Culture of Innovation requires dedication and hard work, but it can pay dividends for years to come making organization future-proof against business disruption.
BTW– I plan to visit the Mauna Kea observatory in Hawaii, USA, once the situation normalizes. There I can truly marvel at the beauty of the universe and reflect on legendary astronomer Carl Sagan's famous quote–"Imagination will often carry us to worlds that never were. But without it we go nowhere."
By Rajiv Sodhi, Chief Operating Officer for Microsoft Corporation (India) Pvt. Ltd.
The post A culture of innovation is key to exploring new frontiers of economic recovery and resilience appeared first on NASSCOM Community |The Official Community of Indian IT Industry.