---
7 Digital Marketing Strategies for Your Successful Campaign
Blog: NASSCOM Official Blog
Digital marketing is key to success in this Digital World, It is one of the most reliable ways to grow your business. Whether to generate more leads, increase reach, brand awareness, or just increase engagement Digital marketing can help any business in all these activities. But to get all the benefits you will need the best digital marketing strategies for your business, and here we are presenting 7 best of them at once.
What is a Digital Marketing Strategy?
A digital marketing strategy is an action plan to achieve your digital marketing goals. The strategy of a company describes how they will accomplish their goals. Goals, such as improving your conversion rate or increasing lead generation rates can be achieved with digital marketing services.
These strategies include Social media campaigns that involve partnerships with influences, a Content marketing strategy that features an online guide to generating more leads, a growth marketing strategy that utilises the power of Social Media and email marketing or PPC promotion, etc.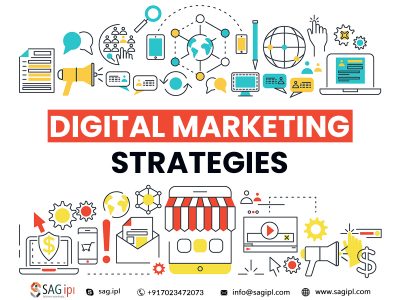 Digital Marketing Strategies for Your Business
Here are seven robust digital marketing strategies that can help companies to grow faster.
Search Engine Optimization (SEO)
Search engine optimization (SEO) is an effective and trustworthy digital marketing initiative today. It is a combination of techniques and process of optimizing your website so it can rank higher on the Search Engine Result Pages (SERPs) for keywords related to your services.
The professional SEO's services company primary goal is to increase the quality and quantity of relevant traffic to the website. Basically, the more keywords you rank for – the more people you will gain.
Why is SEO the Best for a Digital Marketing Strategy?
SEO is necessary for each and every online business of any size. It is the best way to bring organic and relevant traffic to a website. Additionally, the percentage of searchers who are actually interested in your business/ service/ product will be higher.
Another fact is that most people do online research before buying a product or hiring a company for their unique services. And what do they do? They put their queries or product name or keyword or phrase in the search bar and then hit enter. Thus, You need to be visible on the SERPs for the matching keywords to seize all the opportunities.
Pay Per Click (PPC) Advertising
Pay-per-click (PPC) advertising is another powerful and inexpensive marketing strategy, it is a paid form of advertising, based on an auction-based system. In this marketing experts bid on relevant keywords that companies want their ads to show up when a user searches exact or something similar to the keyword.
These ads appear on top of search results even higher than the organic results. You or the company will pay only when a searcher/ user clicks on such an advertisement.
PPC's primary goal is to get the attention of searchers having transactional queries, which means they want to buy products or services. When they click on your ad they will reach a landing page having Call-to-Action (CTA) buttons or options.
Why use PPC as a Digital Marketing Strategy?
PPC is inexpensive and can give you a quick boost whether you are new online or a very reputed one, it can help all. It is also very helpful if your company's organic search result ranking is a few pages back.
Content Marketing
Content Marketing is yet another well-recognized Online marketing strategy for every online business whether it is just a blog or a complete e-commerce store. With content marketing companies try to reach, engage, and connect with consumers via quality, informative, and unique content. It includes videos, blog posts, infographics, and more, provides value and proper information to users.
The major goal of content marketing is to present knowledge and valuable information to the target audience, increase traffic, and generate leads. Additionally, it also focuses on optimizing content for Search Engine to improve the rank and also visibility on SERPs.
Why is content an evergreen online marketing strategy?
Content Marketing can help you to double the website's conversion rates and even cost 62% less than traditional marketing efforts. Another fact is that it generates 54 % more leads compared to traditional marketing. Additionally, people love products and companies having proper and well-informative content.
Email Marketing
There were rumors that Push notification is replacing Email Marketing but it is not true. Online businesses that have maintained Email Marketing in their business are getting all the benefits of this marketing strategy.
The Main object of Email Marketing is to keep potential customers connected, informed, and promote products and offers.
Why use email marketing as a marketing strategy?
The average ROI is $44 for every $1 invested in this mode of marketing. Around 60% of people prefer weekly promotional emails and take promoted action through them. It is also reported that this mode of promotion generates 50% more sales than other lead generation methods.
Social Media Marketing
Social Media Marketing is a method where products, services, brands get promoted on social media platforms. A few of the well known, most popular platforms for this digital marketing strategy is Facebook, Twitter, Instagram, Pinterest, LinkedIn.
It focuses on building brand awareness, increasing conversion, and generating more leads. And it includes marketing as well as advertising too.
Why use social media marketing as an Internet marketing strategy?
An average person spent around 15% of the time of their day on Social Media Platforms, and around 68% of the population have an account on at least one Social Media Platform thus it has the power to influence people's decisions.
Voice search optimization
With Voice Search Optimization you or the company can optimize their existing or new content for voice searches. Marketers try to earn the featured snippet or position zero spot in SERPs because devices with such features consider these results mostly.
Why use voice search optimization as a marketing strategy?
Modern-day devices such as smartphones, smart speakers, TVs are having Voice search features and people are preferring this feature. One fact is that almost 50% of adults use voice search each day.
Video Marketing
In this, just like content marketing and email marketing, your business focuses on creating informative and valuable content in video forms for the target audience. These videos can be of any type such as Instructional, Announcement, guide, Behind the scenes, Event, etc. This marketing strategy is aimed at improving brand awareness, conversion rates, and company revenue.
The post 7 Digital Marketing Strategies for Your Successful Campaign appeared first on NASSCOM Community |The Official Community of Indian IT Industry.