---
Why You Should Consider Incorporating AI in RPA? Benefits and Use Cases
Blog: Comidor Blog
The incorporation of Robotic Process Automation (RPA) and Artificial Intelligence (AI) can create wonders in the world of science especially when it comes to technology. This incorporation led to the concept of Intelligent Process Automation commonly known as IPA. In the current digital era, AI has become an emerging trend and this powerful technology has transformed ordinary, time-consuming operations into fully automated processes. This is one of the most important reasons why 43% of businesses have implemented AI in their enterprises. In addition to AI, according to PwC, Robotic Process Automation (RPA) market is expected to reach $8.8B by 2027.
In this article, you can find everything you need to know about AI, RPA, and Intelligent Automation. Let us start with the difference between RPA and AI.
RPA and AI: What's the Difference?
Robotic Process Automation is a significant technology that has been designed to automate manual work, identify workflow patterns, communicate with digital systems, and eliminate the extra burden off the human worker's shoulder. RPA also performs the mundane, tedious tasks performed by manual laborers. It is an effective automation tool, however, it automates only predetermined processes without intelligence. This indicates that RPA tools will certainly be stuck when decisions like what and how are needed to interpret the business information.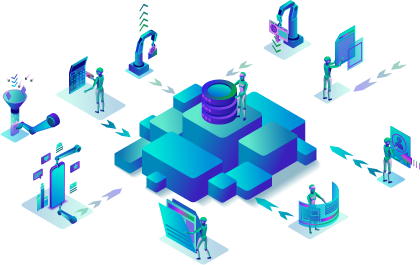 On the other hand, Artificial Intelligence or AI is a technology based on data and results that mimic human intelligence. It makes scientific decisions based on the inputs provided for it. Moreover, Cognitive automation algorithms help you to organize data according to the selected patterns when there is a large amount of scattered information. AI can improve any kind of automation, decision-making, and perform complex tasks using its intelligent skills.
Why You Should Consider Incorporating AI in RPA?
When it comes to RPA, most of the repetitive and mundane workflows may seem too easy. However, this technology requires the intellectual skills to deal with more complex issues in an advanced or liberal work environment because of the ever-evolving RPA trends. Moreover, once incorporated with AI, RPA facilitates great automation opportunities for organizations. Here are some of the reasons why you should consider deploying an integrated RPA and AI solution:
It helps in handling large data and results in data-driven and highly automated work processes that will never consume a lot of time like before.
It can replace human interventions that help control bots and streamline structureless or unstructured data.
It also allows employees to concentrate more on creative tasks instead of doing tedious, manual, and mundane tasks.
Benefits and use cases of RPA and AI
So far, we have discussed RPA, AI, and the incorporated version – Intelligence Process Automation (IPA). Let us discuss some of the top benefits of combining RPA with AI:
End-to-end Automation – The very first and top benefit is the limitless task automation. Though the term automation may give a different idea to different people or processes, it is important to simplify time-consuming or complex business tasks for others. An integrated automation solution operates every function effectively whether it is HR automation, automation in sales and marketing, or customer service automation. RPA and AI can not only efficiently streamline front-end operations, but also streamline back-end business processes such as generation of invoices, document management, and purchase order handling.
Reduced errors – There is no other technology that matches the level of perfection RPA and AI offer while minimizing errors. By eliminating human involvement in the execution of business processes, RPA and AI efficiently reduce errors that may show up without automation. If you run an ERP software or send important reports to executives, one single mistake can create big confusion and misinterpretations.
Low operational cost – When the errors are less, the operational cost will be reduced to a greater level. RPA and AI increase the productivity and efficacy of businesses which reduces additional costs and saves time. Intelligent automation technology helps in improving business processes in a way that they can be managed without utilizing more resources. This, in turn, minimizes overall business costs and allows employees to dedicate their time and attention to other important tasks required to improve the business.
Better customer satisfaction –  AI-enabled chatbots definitely enhance the customer experience. Businesses achieve effective product delivery to the customers in less time. By taking advantage of Natural Language Processing, the hidden emotions in the text of your customers will be comprehended and will be given appropriate answers by your system.
Here are some of the use cases of RPA and AI working together:
Insurance 
Claim analysis – RPA and AI are ideal technologies for classifying and interpreting a new claim. You can direct your insurance claim to the convenient Small and Medium Enterprises (SME) using intelligent auction technology so that it can be efficiently analyzed and processed accordingly. This, in turn, results in quicker turnaround time and better accuracy when processing claims, which increases customer satisfaction and business efficacy.
Commercial underwriting – The Commercial underwriting process is something that requires more resources and significant time investment, as it involves thousands of pages and crucial documentation. Nonetheless, RPA and AI can enhance the overall process significantly by creating an underwriting process that can be easily evaluated allowing the employees to efficiently score their customers. This reduces the total response time and enhances the organization's accuracy.
Banking
Customer onboarding – Nowadays, unstructured information from the onboarding documents of the customers is organized and extracted by the banks, utilizing automation technologies to make it useful for the management system of banks. Ultimately, it leads to improved customer satisfaction and increases the bank's time to build up revenue.
Loan underwriting – Banks can easily take on automation technologies to facilitate their mortgage process. This means that banks can speed up the process of approving mortgages using image recognition and document analysis systems. It makes banks more efficient and consumer-friendly.
Investment management
Document Analysis – RPA and AI tools can be used extensively to analyze crucial business documents or customer data. When it comes to investing, it is important to know the financial health of the company you are investing in. In such cases, the IPA gives proper and detailed financial information about that particular institution.
Trade Processing Automation – With intelligent automation technologies, you can simply obtain significant data from the structureless content and can combine that data with investment management systems. Anything that avoids the extra time that can be wasted on manual data processing.
Wrap Up
RPA and AI are truly revolutionary technologies. When these technologies work together, businesses achieve intelligent automation and become optimized, sustainable, and support their customer needs efficiently.
Author's bio

Aravind Nallasivam is a solutions architect at ClaySys Technologies. He deals mostly with robotic process automation tools and technologies.
The post Why You Should Consider Incorporating AI in RPA? Benefits and Use Cases appeared first on Comidor BPM Platform.