---
Why COVID-19 Could Fire the Demand for Digital Twins
Blog: NASSCOM Official Blog
The past few months have been rather unusual for everyone. Like you, my movements too have been restricted by the rapid spread of the COVID-19 pandemic. Sitting at home locked down, trying to orchestrate a business that spans different time zones, functions, and complexities has been hard to say the least. And doing all of this in complete isolation often only having email or phone to manage has been frustrating. The collective brain of the team needing to think alike, understanding what was said and unsaid, making interpretations and marching to the same beat requires new skills, new ways of aggregating, and dis-aggregating, information, and more efficient ways to disseminate responsibilities and governing them.
The biggest impediments to this are the numerous hand offs and manual interventions needed to keep the business ticking. With the pandemic threatening to stay much longer, and business being forced to work out a hybrid model of part work from home and part from a network of locations, we need to create a more intuitive approach. It is time to unleash that Digital Twin for our value chains. Time to invest in creating an enterprise-wide digital twin that mimics how information and goods flow through the chain digitally. A replica that can be viewed from any perspective, manipulated and changed with the click of a button, allowing us to connect with people and do things with a right swipe.
As I speak to an increasing number of people across industries, I hear them wanting the same capability. The head of supply chain for a retail company I spoke to a few days ago said that she was struggling to meet the surge in demand, orchestrating inventory, suppliers and truck dispatches from home. "Shouldn't we have access to a virtual model of our business that allows us to dynamically analyse, monitor, simulate and change how we function?" I understand her pain. A digital replica of every business component and the relationships between them would be wonderful. It would have reduced the pressure created by isolation and social distancing. The possibility of simulations would also have reduced business risk and helped identify new opportunities more easily.
In 2020, with cheap IoT sensors, the widespread use of Artificial Intelligence (AI), Machine Learning and the availability of 5G, I won't be surprised to find a surge in demand for digital twins when the emergency created by COVID-19 abates.
The concept of a digital twin is not new. Several manufacturing organizations have deployed control systems in their plants that are digital twins of the real plant. Digital banks are another example of a digital twin. ERPs provide an excellent foundation for building these digital twins and have been heavily invested in for several years now. But what we need now is to go beyond this. There is an abundance of tools in the market that help you create Digital Twins on top of your existing technology investments and thus drive process mining, looking at each process and driving out inefficiencies, creating a truly Digital enterprise.
Today, the demand is to abstract the entire value chain—from sensing demand to sourcing raw material and shipping it to manufacturing plants, processing and packaging it, transporting the finished goods to warehouses/ distributors/ customers, and linking it back to finance for invoicing and payments. We should be able to view and manipulate this digital version of business in near real time.
Last year, China Central Television (CCTV) put the digital twins of the four hosts of their Spring Festival Gala on air.[i] The show serves as a clue to the extent to which we could transform business if we want to.
[i] Watch them here: https://www.youtube.com/watch?time_continue=5&v=9pktCJ0LmwE&feature=emb_logo

About the author: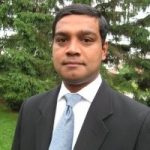 Arun Raghavapudi, President – Americas, ITC Infotech
Arun Raghavapudi is the President, Americas at ITC Infotech based out of Dallas.
Arun is an IIM, Kolkata alumni – 1998 and NIT Trichy alumnus.
LinkedIn profile: https://www.linkedin.com/in/arunraghavapudi/
The post Why COVID-19 Could Fire the Demand for Digital Twins appeared first on NASSCOM Community |The Official Community of Indian IT Industry.