---
What's Changed: 2023 Gartner Magic Quadrant for Robotic Process Automation
Blog: Solutions Review - Business Process Management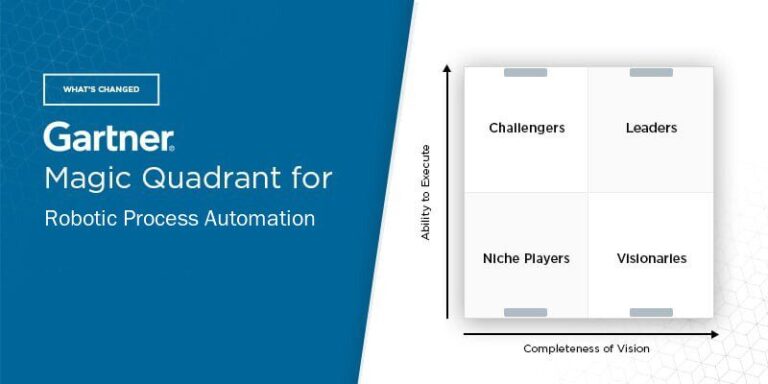 The editors at Solutions Review have highlighted the updates in the 2023 edition of Gartner's Magic Quadrant for Robotic Process Automation and summarized the findings.
Analyst house Gartner Inc. recently released the 2023 version of its Magic Quadrant for Robotic Process Automation. According to Gartner, "Robotic process automation (RPA) is a productivity tool that allows a user to configure one or more scripts (which some vendors refer to as 'bots') to activate specific keystrokes in an automated fashion." These solutions can help organizations optimize day-to-day organizations by automating repetitive tasks and empowering employees to focus on more significant tasks.
To qualify for the report, each vendor had to meet specific criteria. These include selling RPA software directly to paying customers, demonstrating an active go-to-market/sales strategy, offering a commercially supported enterprise offering, providing support for RPA script development with standard programming languages, allowing users to deploy bots in multiple environments, and more.
Key Takeaways: 2023 Magic Quadrant for Robotic Process Automation
---
In this updated Magic Quadrant, Gartner identifies sixteen of the most significant Robotic Process Automation (RPA) providers in the marketplace. The researchers behind the report—Saikat Ray, Arthur Villa, Melanie Alexander, Andy Wang, Mukul Saha, and Sachin Joshi—evaluated the strengths and weaknesses of each provider listed and ranked them on the signature "Magic Quadrant" graph, which provides readers with an illustration of each vendor's ability to execute their vision. The diagram includes four quadrants: leaders, challengers, niche players, and visionaries. A breakdown of each category and the companies associated with it is below.
Leaders
UiPath starts the Leaders category with the UiPath Business Automation Platform, which provides companies with a suite of end-to-end hyperautomation capabilities that cover RPA, AI, NLP, process orchestration, low-code app development, process mining, API automation, IDP, application testing, and task mining. Its primary RPA solution is a cloud-native product with "tailored design studios" designed to help citizen and professional developers create and consume automations. Its strengths as an RPA vendor include its brand identity, evolving product strategy, viability in the market, and extensive customer base, which provides for over ten-thousand companies across industries,
Automation Anywhere is the next vendor listed in Gartner's report. Its RPA product was recently rebranded as the Automation Success Platform, available on-premises and in the cloud. Its cloud-native automation offerings span RPA, process orchestration, digital automation assistance, AI, machine learning, analytics, and API capabilities. Automation Anywhere has an impressive reputation for developing innovative new features, in-depth market understanding, and a proven customer success strategy.
SS&C Blue Prism earns its place in the report with the Intelligent Automation Platform, an RPA solution that integrates with SS&C Blue Prism's Chorus BPA suite, process intelligence, and IDP capabilities. According to Gartner's report, SS&C Blue Prism's strongest qualities stem from its extensive suite of RPA capabilities and a business model revolving around its core RPA solution. It also receives top marks for its user community, which includes over fifty-thousand users, and streamlined purchasing process, which allows users to bundle solutions together.
Microsoft and its Power Automation offering are again listed as Leaders in Gartner's report. Power Automate is built on Azure and provides users with cloud-first and API-first automation capabilities, which include desktop-based automation tools, API integration, task mining, optical character recognition (OCR), AI, process mining, and IDP. Microsoft stands out in the market with its generative AI capabilities, embedded in the Power Automation solution, and a pricing and sales strategy allowing customers to purchase Power Automation at a discount with a Microsoft 365 Enterprise license.
NICE closes out the category with an RPA solution comprising three products: NEVA Assist, NEVA Unattended, and NEVA Discover, which collectively provide companies with attended automation for global contact centers and process discovery capabilities. Strengths include its ability to respond to customer demands, its introduction of an AI-based agent augmentation, a partnership with Hyperscience to support IDP-related use cases, and an industry strategy that helps companies augment their contact centers and workforce management functionalities with specialized attended bots.
Challengers
Cyclone Robotics is the first and only Challenger in this year's Magic Quadrant. Its RPA suite includes the RPA Robot, RPA Studio, RPA Controller, Robot-as-a-Service, Intelligent Assistant, Digital Workforce Platform, and Process Intelligence products. The company has recently repositioned itself as a provider of AI-amplified RPA products integrated with GPT. While the brand has yet to make an initial public offering, Gartner spotlights its capabilities suite, AI product strategy, and a leading presence in China's RPA marketplace as differentiating strengths.
Niche Players
IBM is the first Niche Player in Gartner's report. The IBM Robotic Process Automation solution is part of its broader, integrated hyperautomation suite, which offers RPA capabilities alongside API orchestration, process mining, IDP, digital assistance, and AI tools. Strengths include its global presence, demonstrated ability to provide solutions to companies worldwide, its global customer support team services, integration with IBM Watson, and its product execution.
EdgeVerve Systems is a new addition to this year's Magic Quadrant. Its RPA platform has multiple components: AssistEdge RPA, AssistEdge Engage, and AssistEdge Enterprise Personal Assistant. Together, the suite provides companies with process automation and process discovery capabilities. Gartner spotlights EdgeVerve's licensing strategy, consumption-based pricing plans, market understanding, and automation program, which is supported by parent company Infosys, as its primary strengths.
Samsung SDS's RPA product is the Brity Automation Platform, which includes design studios for citizen developers, technical developers, and orchestrators. It supports on-premises and cloud deployments and can integrate with Samsung SDS's internal AI Contact Center and visual features. Strengths as an RPA vendor include its viability of a brand, extensive partner ecosystem, and the scope of its product portfolio, which includes RPA, AI, machine learning, and IDP offerings that provide content in multiple languages for global users.
Laiye is the next vendor in this category. Its RPA product is well-suited for "diverse OSs," as it can automate in the Android, Windows, and Linux environments. Gartner's report says Laiye's most notable qualities are its market understanding, unified automation solution, a growing network of global partners, industry-specific automation capabilities, its utility-based or revenue-sharing model with vertical SaaS or other software companies, and its offering strategy, which is informed by its active community of over 800,000 developers.
Hyland is another new addition to this year's Magic Quadrant. Its RPA product was acquired from Another Monday. It includes a Windows Presentation Foundation (WPF) desktop-based design studio, a web-based orchestrator called Hyland RPA Manager, and Hyland RPA Conductor, a Windows services-based runtime. Strengths include its appealing business model, growing global presence, diversified partner network, cross-selling strategies, and customized industry solutions it offers to healthcare, government, higher education, financial services, insurance, and cross-industry businesses.
Nintex closes out the Niche Player category with Nintex RPA, part of the broader Nintex Process Platform, and includes capabilities for workflow automation, document generation, IDP, digital forms, e-signature, process mapping, process discovery, and BPA. Gartner highlights Nintex's web-based interface, strong brand recognition, extensive customer ecosystem, process discovery capabilities, and support for bidirectional, end-to-end process orchestration between RPA bots and workflow capabilities as its most compelling offerings.
Visionaries
Pegasystems is the first Visionary in this year's report. Its RPA solution, Pega Robotic Process Automation, is part of the company's Infinity platform. It complements its broader business process automation (BPA) capabilities, including its LCAP, CRM, multi-experience, and business rules. Gartner ranks Pega's patented automation technology and its extensive ecosystem of customers and partners, via the Pega Community, as strengths in the RPA marketplace. Other strengths include its real-time bot resource allocation, desktop mining, integration with Pega Infinity, and attended and unattended automation tools.
Appian RPA is the next vendor in the Visionary category. It complements Appian's BPA, process mining, decision automation, multi-experience, and low-code application platform (LCAP) offerings. Appian stands out in the market with its understanding of RPA in automation use cases, an end-to-end process automation solution suite, a collaborative ecosystem of trained developers, and the Appian AppMarket, which offers over six-hundred extensions, components, and frameworks to help users accelerate their RPA development.
Salesforce earns its spot on the list with MuleSoft RPA, a solution that includes the RPA Manager, RPA Recorder, RPA Builder, and RPA Bot products. The company's product portfolio includes multiple technologies that complement RPA, including API management, LCAPs, and Integration Platform as a Service (iPaaS) offerings, which can collectively support an enterprise-wide hyperautomation strategy. Additional strengths include its global implementation partner network, a product roadmap emphasizing RPA technology, and App Exchange marketplace, which provides customers with accelerators and services.
SAP rounds out this year's Magic Quadrant with SAP Build Process Automation, an AI-powered RPA solution that's integrated into the SAP Business Technology Platform (BTP) stack and offers customers an intuitive UX for citizen developers, support for rapid development, and workflow and business rules management capabilities. Differentiating features include its large-scale ERP ecosystem, global customer base, integration with SAP's process mining tool, pricing model, and a vision for its end-to-end automation suite, including process mining, RPA, cloud ERP, and RPA functionalities.
---
The post What's Changed: 2023 Gartner Magic Quadrant for Robotic Process Automation appeared first on Best BPM Tools, Vendors, Software and BPMS.