---
What is keeping Indian Workforce awake at night?
Blog: NASSCOM Official Blog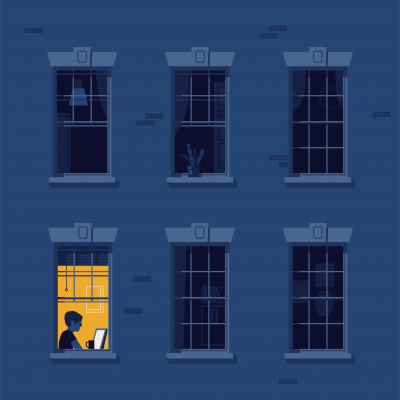 2021 has begun and we hope there is a resilient and prepared workforce out there to face the new challenges head-on in the next normal. New normalcy has set in with embracing and adapting to the new ways of working. While we try and understand what will help workforce survive and flourish in the next normal, looking at what kept the Indian Workforce awake in 2020 will help shed light on what is to be expected in the coming year.
While 43% of workforce surveyed were concerned about job security owing to the changing dynamics at workplace that defined the major chunk of the year. Anxiety over job security looming large since it was tied to job redundancy rather than performance of individual. Uncertainty and volatility marred the first few months of pandemic which elevated stress amongst workforce on remaining relevant in an ever-changing workplace.
Relevance in the newnormal took a whole new meaning where upskilling and reskilling to fit into the new scheme of things became priority. While upskilling was always a path to stay relevant and add weightage to your work profile, never did it make its presence felt so strongly and urgently. So, it is not surprising that over 28% of workforce surveyed were kept awake thinking how best to upskill themselves and be better prepared for the post covid world of work.
The need to stay relevant amidst fear of job security in a new set up of remote working, with blurred lines between work and home environment for days on end took a toll on workforce well-being. While work from home had to be embraced overnight, the various challenges it came with took time to acclimatize to. Burnout and exhaustion because of this were in the horizon. 23% of the workforce surveyed felt they were exhausted because of the continuity in work in a non-office environment which got aggravated by physical distancing from peers and office community.
As new normal slowly transitions into next normal here is a look at some of the key factors that will be a ready reckoner for the next normal as well as in the post covid world.
Adaptability: Adaptability has become a critical trait to cultivate to ride the problems posed by the Pandemic. Despite that , in an ever evolving world Adaptability becomes your most essential workplace skill. So what exactly is Adaptability – it is your way of responding to changing circumstances. It outlines the path you embark on from established set behaviours and way of functioning to those that propel the business forward. Being adaptable helps you get a head start on taking control early on and defining the path you will take instead of letting things happen on its own. It is also about embracing new work habits and letting go of old way of working. Unlearning and re-learning, upskilling and reskilling – all of this comes under the will to adapt to be better prepared. Being adaptable is when you invest time and effort in learning and doing a new task rather than resisting it.
Resilience: The workplace in the next normal as well as in the future will undergo a transition. The challenging times we went through most of last year was unmatched in scale and impact. Building resilience skill is critical and Organizations can help their workforce to build resilience skills by cultivating an ecosystem rife with resilient mindset by giving employees access to tools and resources to regain composure if they are in a state of non-resilience. It is imperative to prioritize mental well–being of workforce that will enable employees to grow amid a challenging situation as well as setting an example to others in the organization to do so. Focusing on a healthy workforce tethered on employee wellness- both mental and physical is critical for workforce development.
Problem Solving Skill: A knack and will to solve problem has never more important as it is in the dynamic world of workforce, we find ourselves in today. Organizations are keen on actively engaging their workforce in developing solutions to complex problems that will fast track business. The next normal may see employers giving importance to critical thinking ability wrapped up with inventive and problem-solving skills that can ensure smooth running of Business. Problem solvers who are adept at managing crisis will and can demonstrate the specifics of their problem-solving ability will be sought after.
The post What is keeping Indian Workforce awake at night? appeared first on NASSCOM Community |The Official Community of Indian IT Industry.