---
Washing machine moment for the IT /ITes Industry?
Blog: NASSCOM Official Blog
"Crises are like washing machines, they will toss and turn you, but you will emerge looking brighter," Sumit Sarawgi of BCG summed it up quite positively at the CEO Dialogues hosted by SAP & The Economic Times, earlier this month.
I had the privilege of joining an eminent panel of leaders from some of the top IT / ITeS companies, to discuss the emerging operating models for the industry in the Next Normal. The panel included leaders like CP Gurgani of Tech Mahindra, Tiger Tyagarajan of Genpact, Debashis Chatterjee of Mindtree, Dhiraj Rajaram of Mu Sigma, Monish Darda of Icertis and Sumit Sarawgi from BCG India.
The IT /ITES industry has been the flag-bearer of India's growth journey for the past two decades- an industry that skyrocketed from $4.8 billion in 1998 to $190 billion, today, and employs over 4 million people. So, it does sound ominous for this industry when experts predict the economic impact of the pandemic to be worse than the 2008 global meltdown. However, it certainly was encouraging to hear industry leaders on this panel looking at the pandemic through the prism of optimism and positivity. 'Opportunity' indeed, was an oft-repeated term throughout the course of the panel discussion.
The Work from Home (WFH) opportunity
COVID-19 has changed the future of work – permanently. What is truly defining is the emergence of 'Network economy'. This pandemic has taught us new ways to conduct our business, interact with employees and connect with our larger ecosystem of customers, partners, vendors and others. Virtual networks and digital collaboration technologies are mainstream today and have become the true enablers of work in these times.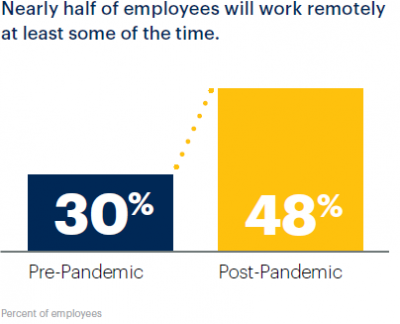 A poll conducted as part of the latest Gartner report on Future of work trends post COVID19 states that over 48% of the participants will likely work remotely at least part of the time after COVID-19 versus 30% before the pandemic.
While this may seem an opportunity for project cost savings in the short term, leaders in the panel felt otherwise. In fact, the common consensus was in viewing WFH as a cost-benefit to clients as myopic.
The real opportunity everyone agreed was in WFH throwing open a huge pool of talent without boundaries, doing wonders for the employability of women talent at leadership levels, employability of racially diverse people in many economies. For a knowledge-based industry this can unlock a new unprecedented level of innovation and productivity.
The key, however, is to find a sustainable model for work-from-home. What is likely to emerge as a potential long-term standard is a 'hybrid model' – a model that would involve employees visiting the workplace from time to time every week for key meetings or interactions. This however would require a shift in the leadership mindset from focusing on outcomes rather than the number of hours clocked. Also, there is the critical need to address employee related challenges in remote working environments – employee engagement, stress and mental health management, talent development and effective performance management. For instance, when SAP moved its entire base of 13000 employees in India to remote working, we not only enabled them technology-wise, we also put in place an employee assistance program called Sahyog, to look at stress management and mental health issues.
These are challenging times and we need differentiated approach in order to address these changing dynamics. My thoughts around how organizations need to tackle the multitude of challenges could be broadly divided into 3 key aspects, enabling them to build a flexible and productive work ecosystem.
Yet another critical challenge emerging out of remote working is cyber security. During the discussion, Debashis Chatterjee of Mindtree called out cyber security as the 'big responsibility' of the industry: "Cyber security is one area where we have been investing in, but it's not good enough. We don't know how cyber security can impact each of us. There must be stricter governance as we modernize our workforce. WFH has many benefits but it also exposes us to potential security breaches," he said.
Emerging Market Opportunities
Despite the widespread disruptions across industries, caused by the pandemic, the panelists pointed out to several silver linings. Many companies are learning from the pandemic related disruptions and are looking at accelerating their enterprise wide digital transformation projects. They are actively reimagining newer business models with technology at the center of it. The emerging demand is for end-to-end digital transformation of customer experience, supply chains, and modernizing enterprise IT. Another accelerated investment area is cyber security which presents a massive opportunity to IT services companies. Dhiraj Rajaram of MuSigma further underlined this opportunity when he spoke of the emerging "no shore" model this crisis has created and how his company's business has expanded in the last six months even as the crisis unfolded.
I personally believe that there is an urgent need for companies to invest in continuous learning processes to take advantage of the changing business scenarios prompted by the pandemic.
The economic impact of the pandemic is leading to an environment of long-term demand constraints and is driving businesses towards building business models that are inherently responsive and agile. This has accelerated the adoption of the Business Cloud – to build integrated, automated and autonomous business applications platforms.
A recent Gartner report has also pointed to the trend of rapid cloud adoption in India with companies spends increasing in business continuity and security solutions. The report points to accelerated digital transformation for sectors such as healthcare, education and public utilities.
All the panelist concurred on the fact that this crisis can turn out to be a major catalyst for innovation as responsiveness will become the key differentiator for companies.
As for the IT/ITeS sector going through the 'washing machine' of this crisis perhaps it is time to have a relook at their own business models, see beyond mere services and place the customer at the center of their offerings. Like the others in the panel, I too am positive that this industry would emerge 'brighter' from this crisis.
ABOUT THE AUTHOR
Sindhu Gangadharan, SVP & MD, SAP Labs India
The post Washing machine moment for the IT /ITes Industry? appeared first on NASSCOM Community |The Official Community of Indian IT Industry.