---
Top WorkTech News From the Week of October 28th: Updates from Cognizant, Aptean, Catchpoint, and More
Blog: Solutions Review - Business Process Management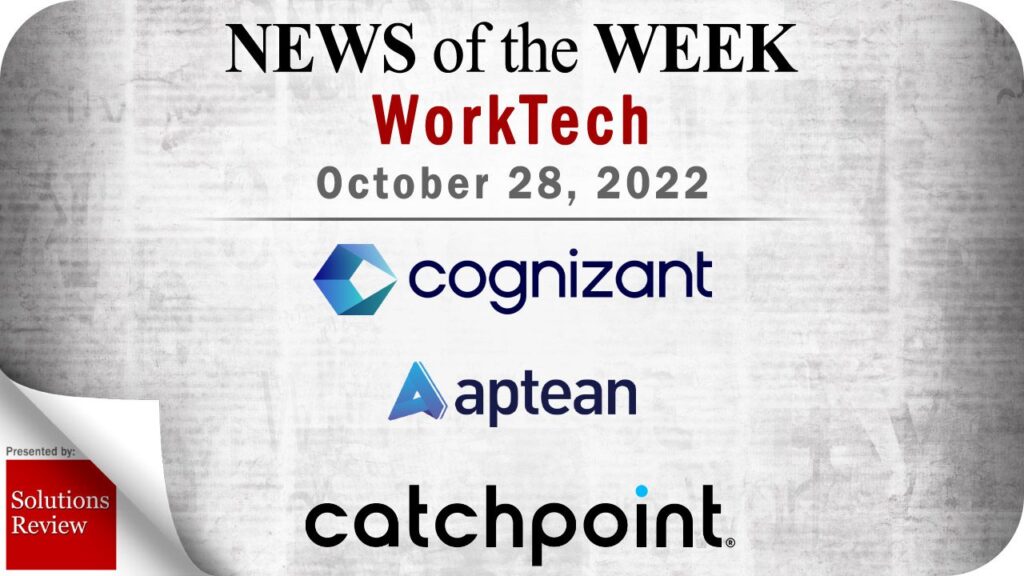 The editors at Solutions Review have curated this list of the most noteworthy WorkTech news from the week of October 28th. This roundup covers announcements and updates from companies like Cognizant, Aptean, Catchpoint, and more.
Keeping tabs on the most relevant ERP and BPM news can be time-consuming. As a result, our editorial team aims to summarize the week's top headlines in the enterprise technology marketplace. The Solutions Review editors will compile a weekly roundup of vendor product news, mergers and acquisitions, venture capital funding, talent acquisition, and other noteworthy WorkTech information. With that in mind, here is some of the top WorkTech news for October 28th.
Widget not in any sidebars
Top WorkTech News From the Week of October 28th, 2022
---
Acquia, a digital experience company, has announced new updates for Acquia Code Studio, a full-stack Drupal development platform. The platform is part of Acquia's Digital Experience Platform (DXP and equips developers with the resources needed to plan, develop, build, review, test, deploy, and measure Drupal applications. New features include AutoDevOps, automatic updates, and, via a partnership with GitLab, a version of GitLab that's customized for Drupal and Acquia users. These tools can help developers install dependencies, create review environments, replace deprecated custom code, and more.
---
Aptean has acquired Merlin Business Software, an enterprise business solution provider for wholesalers, distributors, and companies in the industrial supply, building supply, and food and beverage industries. Merlin's configurable, modular ERP platform can be deployed in the cloud, on-premises, or as a SaaS. It equips users with end-to-end business process functionalities to help them increase efficiencies and lower operating costs. The acquisition will enable Aptean to continue to expand its ability to support distributors and wholesaler clients in the United Kingdom.
---
Catchpoint, an enterprise-proven Digital Experience Observability solution provider, has released a new Website Experience Monitoring tool to help companies develop websites capable of delivering memorable brand experiences, converting visitors, driving revenue, and outranking competitors on search results. The new solution brings WebpageTest capabilities directly into the Catchpoint platform, equipping developers with actionable insights into performance issues and making it easier for them to resolve problems before they affect the end-user.
---
Cognizant has announced that it is expanding its collaboration with Qualcomm Technologies by developing a new 5G experience center in Atlanta, Georgia, to accelerate enterprise digital transformation. The collaboration will combine Cognizant's experience in IoT, cloud, data analytics, and 5G technologies with Qualcomm Technologies' AI, intelligent edge devices, and 5G connectivity solutions. The 5G center will open with manufacturing and supply chain management use cases for clients to explore, with additional solutions for specific business challenges expected later.
---
DXC Technology, a global technology services provider, has expanded its partnership with Dynatrace. As part of the partnership, Dynatrace's Software Intelligence Platform will become the "preferred DXC Platform X" software for observability and artificial intelligence-powered automated management of IT estates. The expanded partnership will also help companies improve operational performance across hybrid and multi-cloud environments. Additionally, DXC and Dynatrace have announced that they are launching a joint strategic go-to-market program to bring an intelligent, cross-service-line solution to global customers.
---
Shippeo, a global provider of multimodal supply chain transportation visibility solutions, has raised $40 million in a fundraising round, which boosts its to-date investment to over $110 million. All existing Shippeo investors participated in the funding, including Battery Ventures, NGP Capital, Partech, ETF Partners, Bpifrance Digital Venture, and SAP.io. New strategic investors like LFX Venture Partners and Yamaha Motor Ventures also contributed. The investment will help Shippeo continue to help shippers and carriers maintain collaborative, sustainable, profitable, automated, and customer-centric supply chains.
---
The WorkTech Insight Jam is a community web event that shares expert insights and proven best practices for evaluating, deploying, and using ERP, BPM, and CRM solutions. The Solutions Review editors are bringing the best and brightest minds in the WorkTech industry together for a one-day social media gathering. Participants will include industry analysts, experts, influencers, practitioners, and software solution providers under the hashtag #WorkTechInsightJam.
---
For consideration in future WorkTech news roundups, send your announcements to wjepma@solutionsreview.com.
---
The post Top WorkTech News From the Week of October 28th: Updates from Cognizant, Aptean, Catchpoint, and More appeared first on Best BPM Tools, Vendors, Software and BPMS.