---
Top WorkTech News from the Week of June 10th: Updates From Epicor, Kissflow, e2open, and More
Blog: Solutions Review - Business Process Management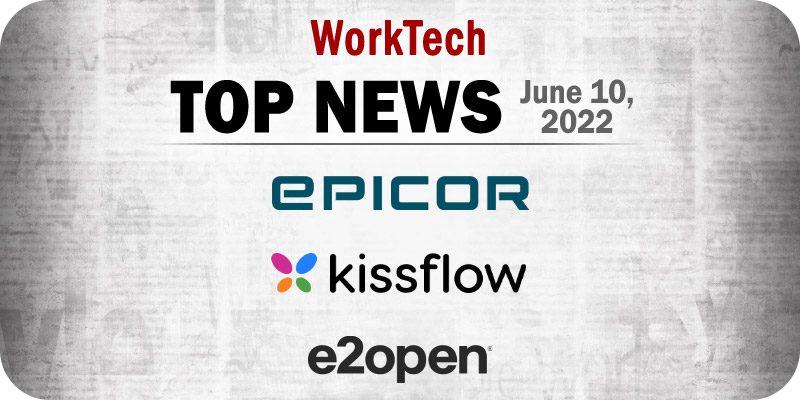 The editors at Solutions Review have curated this list of the most noteworthy WorkTech news from the week of June 10th. This roundup covers new announcements and updates for companies like Epicor, Kissflow, e2open, and more.
Keeping tabs on the most relevant ERP and BPM news can be time-consuming. As a result, our editorial team aims to summarize the week's top headlines in the enterprise technology marketplace. The Solutions Review editors will compile a weekly roundup of vendor product news, mergers and acquisitions, venture capital funding, talent acquisition, and other noteworthy WorkTech information.
Top WorkTech News from the Week of June 10th, 2022
---
Accenture has announced its acquisition of Advocate Networks, LLC, a technology consulting and managed services provider specializing in Technology Business Management (TBM) solutions. Advocate's suite of TBM offerings covers strategic advisory and TBM-as-a-service (TBMaaS). It will help Accenture expand its digital transformation and end-to-end capabilities for TBM and FinOps. The team at Advocate will join Accenture's Technology Strategy & Advisory practice to help clients define, architect, and measure the value of their digital and cloud transformation initiatives.
---
Epicor recently announced that it had acquired Data Interchange, a UK-based provider of managed services and Electronic Data Interchange (EDI) cloud technology. The acquisition will help Epicor grow its reach in the European market and expand its portfolio of B2B integration technologies. With Data Interchange's solutions, Epicor can provide its clients with tools for streamlining supply chain strategies, automating business processes, planning for changing business needs, and developing a "single-source of truth" for managing supplier relationships.
---
E2open Parent Holdings has revealed a brand identity for its a connected supply chain SaaS platform. Alongside a new logo for the e2open solution, the company announced an updated tagline: "Moving as one." The news was announced at the Gartner Supply Chain Symposium/Xpo

2022 in Orlando. In a press release detailing the announcement, e2open CEO Michael Farlekas said, "With recent disruptions exposing the areas ripe for improvement, now more than ever, we're forging the path forward to a more connected, flexible, sustainable, and cost-effective supply chain that moves together as one."
---
Global Shop Solutions, an ERP software provider for manufacturers, has announced a new financial consulting service to help its clients stay on top of their month-end closing and financial reporting. The new service, Virtual Controller, will help manufacturers with inventory reconciliation, data analysis, financial statement corrections, and reconciling accounts receivable and payables to their general ledger. Additionally, the Virtual Controller offering includes training and education from professional consultants to help businesses strengthen their manufacturing accountants' ERP skills and financial understanding.
---
Infor has announced a new technology partnership with Everstream Analytics, a global supply chain insight and risk analytics company. The partnership will help organizations improve how they predict, plan for, and navigate supply chain risks and disruptions. Infor will integrate Everstream's end-to-end supply chain risk assessment and monitoring data into the Infor Nexus multienterprise business network platform. The companies will equip clients with the visibility and predictive alerts they need to respond to supply chain events, improve resiliency, maintain on-time performance, and boost supply chain agility.
---
Kissflow recently launched a unified low-code/no-code work platform to help businesses simplify work management, accelerate digital transformation, and bridge the gap between business users and IT. The new platform combines a company's work management efforts into a unified experience for IT developers, team managers, process experts, end-users, citizen developers, and teams. Capabilities available on the low-code/no-code platform include app development, process management, analytics, data management, integrations, and task management.
---
Tacton—a Configure, Price, Quote (CPQ) SaaS provider for industrial manufacturing companies—has released several updates for its Tacton CPQ solution. The updates include capabilities like Data Import Automation, Product Validation, and improvements to its Integration to Salesforce and CPQ Visualization offering. With these features, manufacturers worldwide can maximize sales efficiency and streamline the process of configuring and selling capital equipment.
---
For consideration in future WorkTech news roundups, send your announcements to wjepma@solutionsreview.com.
---
The post Top WorkTech News from the Week of June 10th: Updates From Epicor, Kissflow, e2open, and More appeared first on Best BPM Tools, Vendors, Software and BPMS.