---
Top WorkTech News From the Week of January 6th: Updates from Robocorp, Accenture, Cetec ERP, and More
Blog: Solutions Review - Business Process Management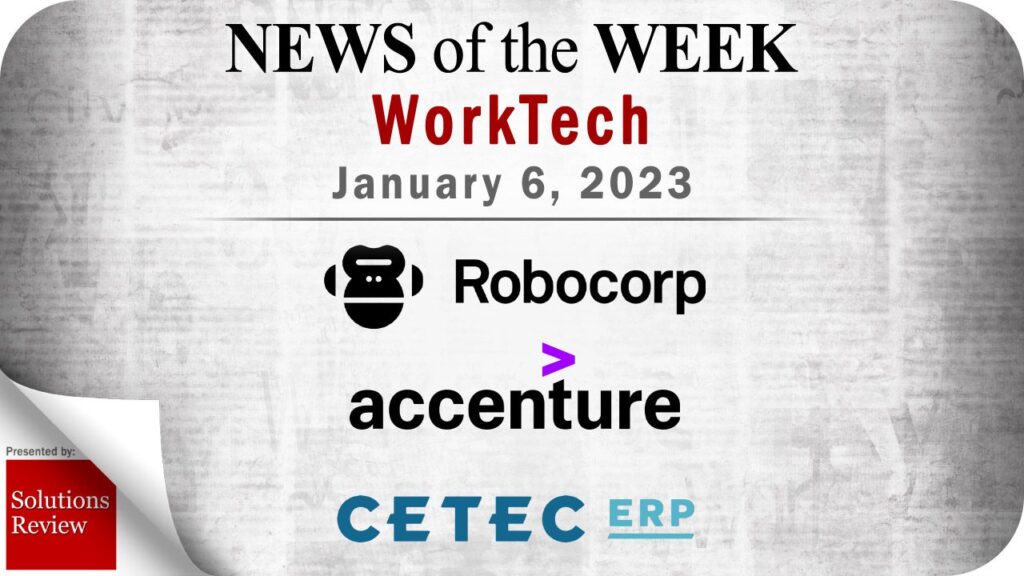 The editors at Solutions Review have curated this list of the most noteworthy WorkTech news from the week of January 6th. This round-up covers announcements and updates from companies like Robocorp, Accenture, Cetec ERP, and more.
Keeping tabs on the most relevant ERP and BPM news can be time-consuming. As a result, our editorial team aims to summarize the week's top headlines in the enterprise technology marketplace. The Solutions Review editors will compile a weekly round-up of vendor product news, mergers and acquisitions, venture capital funding, talent acquisition, and other noteworthy WorkTech information. With that in mind, here is some of the top WorkTech news for January 6th.
Widget not in any sidebars
Top WorkTech News From the Week of January 6th, 2023
---
Accenture has announced the completion of its acquisition of Inspirage, an integrated Oracle Cloud specialist firm emphasizing supply chain management. The acquisition will expand Accenture's Oracle Cloud capabilities and help it provide clients with the support they need to accelerate innovation with emerging technologies like touchless supply chains and digital twins. Approximately 736 Inspirage employees will join the Accenture Oracle Business Group, continuing to grow the company's Oracle and supply chain skills.
---
Appian has announced that it's elected Shirley Edwards to its Board of Directors and named her as the  Appian Audit Committee Chair. Shirley Edwards was a partner at EY (formerly Ernst & Young LLP) from 2002 to 2022. Matt Calkins, the CEO at Appian, added the following statement:  "Throughout her career, Shirley advised corporate boards and management teams of large multinational companies. Her experience allows Appian to continue its long history of financial strength and accountability. I am excited to welcome her to our team."
---
Cetec ERP—a web-based SaaS platform for manufacturing and distribution companies—has announced the rollout of the newest edition of its platform. Cetec ERP 4.08 will release to LIVE cloud environments in early January 2023 and introduce new features to help users simplify tasks and improve efficiency. These features include new production management metrics, a BOM comparison feature, clock-in/out enhancements based on user role, and other improvements.
---
Genpact, a global professional services firm, and HighRadius, an AI-powered software provider, have expanded their strategic alliance. The companies will combine HighRadius' Autonomous Software platform with Genpact's global accounts receivables, digital process, and delivery expertise to help clients drive impactful, measurable business outcomes. The partnership will also allow the companies to develop longer-term opportunities for digital transformation, innovation, and improved client deliverables.
---
RedTeam Software, a construction management software provider, has announced a new integration partnership with Acumatica, the cloud ERP provider, and received the Acumatica-Certified Application (ACA) title. The integration will allow Acumatica users to access the project management features on RedTeam Flex. These features cover contracting, scheduling, field management, preconstruction, and workflows for supporting enhanced accounting functions, invoice approvals, contract compliance, and more.
---
Robocorp Expands its Partner Program with New Offerings
Robocorp, a Gen2 robotic process automation (RPA) provider, has released details on its enhanced partner program. It will help support partners and service providers as they create, sell, and deliver Gen2 RPA projects. The updated program introduces new features, including a Partner Portal and Partner Tier system, alongside updates to its pricing model, RPA MSP (Managed Services), and the ways partners can go to market. Other additions include an expanded Partner Success team, which will provide new training, certifications, and assets.
---
For consideration in future WorkTech news round-ups, send your announcements to wjepma@solutionsreview.com.
---
The post Top WorkTech News From the Week of January 6th: Updates from Robocorp, Accenture, Cetec ERP, and More appeared first on Best BPM Tools, Vendors, Software and BPMS.