---
Top WorkTech News from the Week of April 15th: Updates from Sitecore, Oracle, Camunda, and More
Blog: Solutions Review - Business Process Management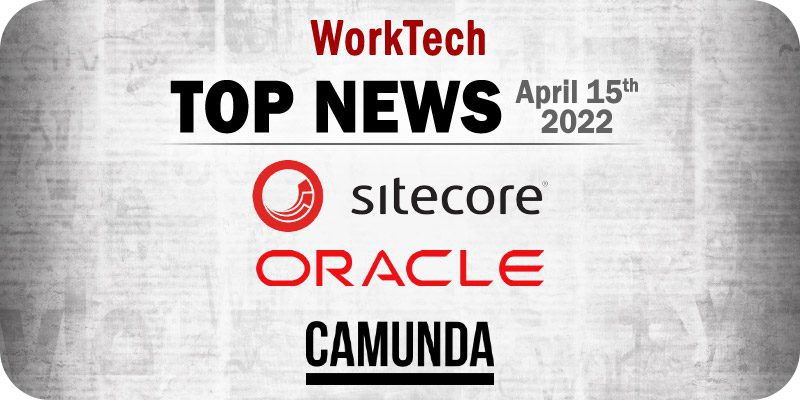 The editors at Solutions Review have curated this list of the most noteworthy WorkTech news from the week of April 15th. This roundup covers new announcements and updates for companies like Camunda, Nextiva, Sitecore, Oracle, and more.
Keeping tabs on all the most relevant ERP and BPM news can be time-consuming. As a result, our editorial team aims to summarize the week's top headlines in the enterprise technology marketplace. The Solutions Review editors will compile a weekly roundup of vendor product news, mergers and acquisitions, venture capital funding, talent acquisition, and other noteworthy WorkTech information.
 Free Buyer's Guide for Business Process Management helps you evaluate the best solution for your use case and features profiles of the leading providers and a category overview of the marketplace.
Top WorkTech News from the Week of April 15th, 2022
---
Camunda, a process orchestration software provider, recently announced the launch of Camunda Platform 8, which Zeebe, a cloud-based workflow engine, now powers. The launch of Camunda Platform 8 introduces several new features and process orchestration capabilities. These include the workflow engine from Zeebe, a new open architecture, and an integration framework for end-to-end orchestration across systems, which enables users to develop custom connectors using SDKs for the programming language they prefer. Camunda Platform 8 is available now as SaaS, hosted on Google Cloud, and as a self-managed solution.
---
insightsoftware has expanded its Angles product by launching several new solutions for no-code reporting for NetSuite, Deltek Vantagepoint, and Deltek Vision. The original Angles product line came to insightsoftware via the acquisition of Magnitude Software and included solutions SAP and Oracle. With these Angles products, insightsoftware offers customers solutions that integrate with existing ERP systems and direct connections to the data sources they need to generate, customize, and share operational reports and interactive dashboards.
---
Nextiva, a cloud communication company, has announced the launch of NextivaONE, a new partner program that will help channel partners and customers expand their service portfolios, keep pace with the ICaaS and CCaaS markets, and develop their revenue streams. The partner program offers benefits like partner onboarding, a designated partner team, an updated user portal experience, exclusive product access, technical training resources, marketing services, and demand generation support.
---
Oracle has announced the launch of Oracle ME, a new employee experience platform built to help companies improve employee engagement and support employee success. The new solution is included in the Oracle Fusion Cloud Human Capital Management (HCM) suite and comes equipped with several Oracle HCM features. These include Oracle's Touchpoint, HCM Communicate, Connections, HR Help Desk, Journeys, and Digital Assistant tools. Oracle ME is an open platform capable of extending across Oracle's Fusion Cloud Applications Suite, automating processes, and connecting with third-party systems.
---
Sitecore, an end-to-end digital experience software provider, has announced that it's successfully integrated the core products from its acquisitions of Four51, Moosend, Boxever, and Reflektion into its Digital Experience Platform (DXP). With its newly updated product suite, Sitecore expands its SaaS-enabled DXP with capabilities to help its users create memorable customer interactions and provide real-time personalized experiences across touchpoints. The new products include Sitecore OrderCloud, Sitecore Send, Sitecore Personalize, and Sitecore Discover, which come from Four51, Moosend, Boxever, and Reflektion's acquisitions, respectively.
---
For consideration in future WorkTech news roundups, send your announcements to wjepma@solutionsreview.com.
---
The post Top WorkTech News from the Week of April 15th: Updates from Sitecore, Oracle, Camunda, and More appeared first on Best BPM Tools, Vendors, Software and BPMS.