---
Top Digital Marketing Project Ideas
Website Analysis using SEO tools
Search engine optimization (SEO) is an inevitable part of digital marketing and is a great digital marketing project idea. SEO is a technique for increasing the quality and quantity of traffic to your website by utilizing search engine results. This allows you to boost your website's visibility for relevant searches.
You will be more likely to capture the attention of the audience and produce leads for your business if you have optimized your website with keywords that have a higher search volume. The skills that you have to acquire through this project are depicted in the image below.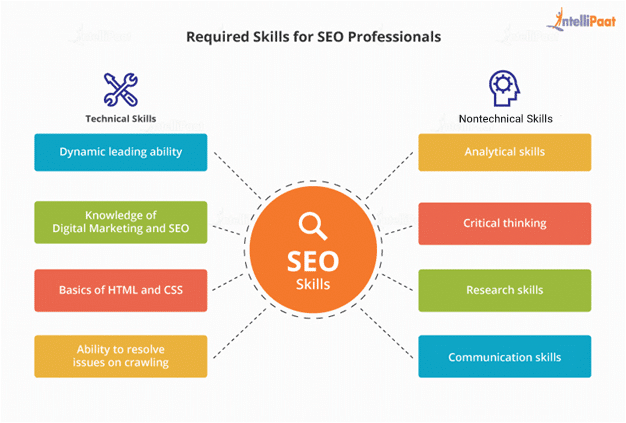 Google Analytics
Analyzing data obtained from websites is a really significant component of any business, as it helps to determine further actions. Conclusions drawn from data analysis will help you to broaden your analytical skills while being a great addition to your resume.
So, always try to take up analytical projects that can advance your skills. You can do website analysis, social media analysis, or application analysis.
Let us take a look at Google Analytics (GA) for a moment. It detects and filters out bots and does not count the same user twice. GA is the most reliable and valid analysis tool if you want to optimize your content on Google Search. Website and social media can be monitored at the same time in GA.
This shows that GA is not only crucial to investigate the behavior pattern of customers, making it absolutely necessary for any kind of online business and budding digital marketers.
Want to be a certified SEO expert? Then enroll in our SEO training course program.
How to get started with Google Analytics?
The steps to get you started with GA are pretty straightforward. They are as follows:
To get started, you will need a Google account and a Gmail address.
Start by signing up for a free GA account.
Include details about the website name, URL, and industry that you wish to track.
Obtain the JavaScript tracking code so that GA can begin monitoring your website.
Make adjustments to your website's source code by including the JavaScript custom code after <head> tag in HTML.
To check if it is working, go to the GA interface.
Examine the analytics portal's various areas to see if it registers your visit.
Isn't it straightforward? A single Google account can also be used to generate and map 1,250 GA profiles!
It is to be remembered that various dimensions, descriptive variables such as name, job, and location, and matrices, quantifiable variables such as the number of clicks, age, and temperature, can be captured by using GA.
Various features and results can be inferred by using GA:
GA will automatically reveal critical changes, new patterns, and perhaps other opportunities from your data. This will help you to gain critical insights.
Conclusions can be drawn based on Smart Goals, Smart Lists, Session Quality data.
Research can be done on target customer actions and impacts based on the measurement of active users interacting with your website in the last 1, 7, 14, and 30 days. It can also be researched how much value do these users create within the various sessions by analyzing individual actions rather than collective behavior.
GA provides reports such as ads reports, acquisition reports, and behavior reports. In ads reports, users who clicked on your ads and later went to your website or utilized your mobile app are monitored via post-click performance data.
You can examine everything, how you obtain users, how they interact on your site after they have been acquired, and how they are converted from acquisition reports.
GA enables us to investigate how pre-click data, such as inquiries and impressions, and post-click data, such as bounce rate and transactions, are related.
GA will help you to gain a better understanding of the interaction of the visitors with your site from the behavior flow report, site search, and site speed report.
GA offers tools that throw light on different funnel stages, which will help you to recognize the stage where customers drop off. You will get a deeper understanding of customers in different stages of the funnel. This will give insights into the required actions that have to be taken at each stage.
GA can assist you in predicting crucial users and actions. Smart Goals forecasts which on-site actions are most useful, while Smart Lists identify which users to re-engage with commercials.
The features provided by GA tools are not limited to those listed above. However, any time you choose a GA project, make sure to learn the above aspects and become an expert in them.
Want to learn more about GA?
Are you excited about being a certified Google Analytics expert? Join our Google Analytics Certification program.
Google Console
Let us get started with Google Console. Take up a live project to learn more about Google Console.
Enter the domain name on the home page
Verify the domain name via the DNS provider
If you have a website, you will land on the page below, where you can use the various available features
There are a lot of features for this SEO tool.
Search Analytics Report: The Search Analytics report in the Google Search Console provides a complete set of essential insights into your website's search performance. Go to Search Traffic and then Search Analytics in the left-hand menu of the Search Console page to see something like the image given below.
View your page as Google would do; how a user navigates through Google and sees your website can be viewed. URL can be also be inspected with this tool.
Make sure Google can recognize and crawl your website.
View statistics on crawl rate and when Googlebot hits a specific site.
Fix indexing issues and request that new or updated information be re-indexed.
View your site's Google Search traffic data, including how often it appears in Google Search, which searches phrases get you there, how often people click through for those queries, and more.
When Google detects indexing, spam, or other issues on your site, you will get an alert.
Google Console will identify which websites link to yours.
You can troubleshoot any AMP, mobile usability, or other search-related difficulties.
Google Console can link with Google analytics.
Paid ad campaigns for any organization or website
Search Engine Marketing (SEM) is the process of paying to have your website or business appear higher in search engine results pages (SERP.)
Keyword research, budgeting, running paid ad campaigns, acting on intelligent bidding recommendations, automating bidding with copy production, and analyzing and forecasting results are all possible with SEM technologies.
Hands-on experience in SEM projects is a valid skill required for any digital marketer. Two well-known tools to learn that will help you in becoming an SEM expert are Google Ads and SEMrush.
Let us quickly brush up on the basics of Google Ads and SEMrush.
Become a certified Search Engine Marketing expert by enrolling in our SEO online course training program.
Google Ads
One of the most effective lead generation techniques is Google Ads. If your campaigns are set up correctly, they can generate precisely focused leads and customers to your website.
Let us see how to set up a campaign.
Create a new Account or use your Gmail account in Google Ads
Click on expert mode because you need expertise and not beginner-level knowledge
Choose any one goal. Let us say website traffic
You can, then, determine the main objective. Let us choose search traffic here
Then, enter the name of your website and click continue
Enter the campaign name and network types required
Give the location preference for your site. Here, let us choose India and specifically Bengaluru to proceed with the example
Choose your budget and bidding amount. Usually, start with a small budget and scale up later accordingly
Click save and continue
Give ad group name and keywords in the next dialog box
Enter the final URL that your customer would be directed to when they click on the ad. Check the preview
Give your payment options and you are done! You have started your campaign
Now you can see your campaign dashboard and all the required data analysis information.
Features of Google Ads
Out of the many features available, a few important ones are listed below. So do not forget to learn these features through your project.
Check out this Digital Marketing Course video on YouTube now:
Make micro-adjustments to your bids: You may adjust your bids in Google Ads based on the day of the week, time of day, devices people use to view your ads, viewer ages, genders, locations, and income levels. You can also exclude certain groups from these sections. This tool becomes much more valuable when bidding based on previous user data.
You can observe which parts of your account have produced more conversions for a higher return on investment (ROI) after one to three months of activity from dynamic interactions with your commercials.
With such information, you may make slight bid adjustments so that the more the users visit the site, the higher the bid for that specific site becomes. Adjusting bids is comparatively costly but the chance of conversion is pretty high with such leads. This increased bid can bring you in front of people you want to connect with your ad, while also lowering your overall budget.
Experiment with different bidding tactics: The above-mentioned technique works when manually monitoring and placing bids for your account. Google also has several automated bidding processes in place depending on your goals, whether it be exposure, clicks, conversions, or striving to hit specified cost per conversion targets.
Before employing one of these automated bidding tactics, you should have your account up and operating for a while as past account history affects the performance of the bidding tactics.
Are you thinking about starting a career in SEO? Learn about how to Build Your Career in SEO from scratch!
Enhance your quality scores: The quality score is a mechanism for Google to rate the experience for users presented by advertisements and landing pages. Having above-average ad relevance and landing page experience will give you a good quality score, which might help you to have an upper hand in getting a higher position in search engines.
If your quality ratings are below a six, then you may need to edit your advertising and landing pages to make them more relevant, or you may need to refine your account's targeting. All this is easily facilitated by Google Ads.
Conclude the auction: While you cannot immediately view what your competitors are bidding for your keywords, the Auction Insights tab provides extensive information on the same. The data offered here gives you a detailed look at who is bidding alongside you in the AdBlock, how often do their advertisements appear for the keywords you are using, and where do their ads appear on the page.
This would give us a good knowledge of the market and competition, which allows a business to plan and succeed.
Keep track of search impressions: You may use search impression share to see how frequently you appear for your terms and where the underlying problem is if your ads are not popping up.
Try out remarketing: Google Ads lets you reach out to visitors who visit your website. Re-targeting can also be narrowed down to apply to specific pages on your website, allowing you to customize your adverts for those precise subject areas. Some people need to see the advertisements more than once to get familiar with the brand.
SEMrush
SEMrush is a comprehensive toolkit for boosting internet exposure and investigating market information. It gives a lot of tools for SEO, PPC, SMM, keyword research, competitive research, PR, content marketing, marketing insights, and campaign management.
SEMrush is an authentic platform and its features are quite sophisticated. Learning how to use this tool and taking up a project in SEMrush would bring the ball into your court
The tools in SEMrush are listed below:
Email Marketing Project
Emails are the professional route to the heart of any customer. Email marketing may appear silly at first since many people believe that it is largely ignored, but the data shows otherwise.
66 percent of consumers have made an online purchase as a result of receiving an email marketing message. Women are 10 percent more likely than men to click on emails. The average return on investment for email marketing is 44 dollars for every dollar spent. As a result, having a well-planned budget is usually beneficial.
Emails are also an excellent approach to provide your customers with a personalized experience. Companies that are at the top of their game when it comes to email marketing always provide discounts via email. Emails that are brightly colored, brief, straightforward, and contain exact information are always appealing.
So, take part in an email Marketing project where you will be exposed to the different aspects of email marketing. One of the famous tools in this arena is Mailchimp. Let us brush up on the basics of Mailchimp.
Mailchimp
Sign up for a Mailchimp account by entering your name and email address. This is followed by an account activation email
A segmented audience is a path to success, as it creates a better experience for each customer and can lead to customer satisfaction.
There will be a default audience with the existing contacts. But Mailchimp provides a lot of tools for better audience management. This will help you to segregate and organize the contacts and cross-sharing of data across the audience and contacts.
The default audience setting is the current audience; click on the audience dashboard and choose the audience that you want to work with from the drop-down menu.
You can go to the manage audience option and drop down and choose to sign-up forms
Click on Forms and Response Emails from the Form Builder and choose the form that has to be edited
Click on the Design It tab
Create a complete form including the page body and referrals and include the customization options
Save and Close to save your audience
Create a campaign
First, go to the Create icon
Select Email option followed by Regular
Enter a campaign name and click Begin
Now, you can create your email marketing campaign. Set up your email and also add recipients in the to section. Do not forget to fill in your name and email address in the Form section.
Select the required template, and design your email. It will take you some time to get familiar with the designing options of email in Mailchimp
After that, you can send the campaign
You have the option to send it immediately or schedule it for a later time. Choose the option according to your convenience
Check the campaign overview and report for valuable data. It can give a lot of insights about the next decision and improvements that have to be made. It also helps to categorize the customers into the different stages of the digital marketing funnel.
This is an example of an email overview in Mailchimp.
The unique features of Mailchimp have to be learned through email marketing projects that are given below:
Want to learn more about Mailchimp and email marketing? Check out Intellipaat's course in Email Marketing.
Keyword Research and Analysis
Keywords are the words that we type in the search engine.
Why should you consider keyword research and a project on keywords?
The use of the right keywords attracts high-quality traffic.
It assists in achieving a high ranking on SERPs.
It is simple to assess the competition.
It helps you in developing customized keywords for your brand.
It makes it simple to run an SEO strategy.
It helps in improving social media relations.
It helps in catching up with the latest trends in the market.
So, what are the few tools you can rely on to learn more about keywords and their influence? Continue reading to explore more.
Google Trends
Google Trends is a Google website that evaluates the popularity of top Google Search queries in different locations and languages. The website makes use of graphs to compare the number of searches for various questions and keywords across time.
If you simply type a keyword in Google Trends, the four main aspects that you will get in a graph are the popularity of the keyword over the past 12 months, demographic popularity, related queries, and related topics.
You can also see the Top and Rising queries and topics. The definitions of Top and Rising, according to Google Trends are:
Top: The most popular topics; scoring is on a relative scale where the value of 100 is the most commonly searched topic, and the value of 50 is a topic that is searched half as often as the most popular term, and so on.
Rising: Related topics with the biggest increase in search frequency since the last time period. Results marked Breakout had a tremendous increase, probably because these topics are new and had only a few if any, prior searches.
Google Trends also allows us to compare the keywords within the four domains mentioned above.
Let us learn with an example:
Google Trends home page looks like this
On scrolling down, you can see the recently trending searches along with the trending searches by year
So, we shall begin with searching about chocolate
The immediate results are
These data forms a great resource in market research. Google Trends data can be used for a variety of marketing objectives. Google Trends data can be utilized to plan seasonal campaigns in paid search, which will assist with cost estimation and inventory stocking.
Furthermore, you can utilize Google Trends to identify irrelevant trending terms that should be marked as negative keywords so that a trending search does not have a significant impact on your expenditures.
Use Google Trends to find out what the customers in your target market are looking for. This would enhance the SEO and content marketing, which, in turn, drives traffic to the website. Look through Google Trends to see what topics are attracting the public's attention right now!
Exclusive features of Google Trends that further help in advance data collection are:
Demographic segregation of data: We can obtain the data for the entire world, a particular country, or a subregion in a country. Is that not interesting?
Data for any customized time frame: This will help us predict market trends.
Data under different categories: This will help us to know what, generally, interests the customers.
Data on the preference of search: This will help us to gain insights into the type of content that is in demand.
Comparison feature: Google Trends gives the option to compare the data of different keywords. This helps in a better understanding of competitors and the latest trends in the market.
So, learning the advanced features of Google Trends will support and complement SEO actions and will guide you to perform better. This will take care of your success in your business niche.
Google Keyword Planner
Google Keyword Planner is a feature available in Google Ads. In the Tools option, you can find the Keyword Planner. The crucial role played by keywords in SEO and SEM is well known. It requires a lot of experience to understand the system of keywords and their role in SEO. So, working on this single tool of Google Ads as a project will help you to gain a lot of knowledge.
Let us go through the basics of Google Keyword Planner quickly:
You will have two options after opening Google Keyword Planner from the Tools of Google Ads
If you are trying to find and set up new keywords, then click on Find Keywords and type in your keywords and the Google Keyword Planner will revert back thousands of related keywords along with some matrices, like the one given below.
But, if you already have a set of keywords and want to analyze their impact, then slide into the second option.
Here, a few keywords are added such as "keyword research," "how to do keyword research," "best keyword research tool," etc.
The estimate received is given below.
Proper interpretation and analysis of the above data are mandatory. This tool is very critical for an advertiser because it shows the number of impressions, and impressions matter a lot in the first stage of the digital marketing funnel. Optimized use of this tool will be a feather in your hat.
Ubersuggest
Ubersuggest is another SEO tool that helps with a lot of keyword suggestions and new keyword ideas. It has a rich keyword database and clear and concise link data, and competitive research is remarkably brilliant with it. It has a free version with a lot of basic features and a paid version with advanced features.
Let us look at the basic features of the free version:
The home page of the free version looks like this
Let us try with a simple keyword, chocolate, and see the results
Yes! That's a ton of information to handle.
Also, take a look at the menu Ubersuggest
Remember that all these features are absolutely free
I did a trial on competitive analysis and SEO explorer. I gave the domain intellipaat.com. The results are mind-blowing. Take a look!
Take a little time to appreciate the clean data available. It is evident from all this data how much impact that this tool can create in the SEO process. Anyone can sign up to create an account to utilize the advanced features of Ubersuggest. So, taking up a project to learn about Ubersuggest will not go in vain.
Content Writing and Website Development
If you are someone who has a knack for writing, then you can always try out content marketing projects.
Why is content writing important for a brand? A few reasons are mentioned below:
Increasing brand awareness and assuring your presence to your customers
Complementing SEO because a video with written content ranks higher
Establishing your brand among other similar brands
Retaining customers
But where will you publish your content? At your website, right? Is it not important to create a website?
Let me introduce you to a tool called WordPress!
It is used to publish blogs and create websites and, even, e-commerce platforms. WordPress is the most popular service used by many companies including Microsoft. Investing time and money in learning WordPress will only add to your skills.
Use this step-by-step guide to develop a Content Marketing Strategy to connect with potential customers.
So, what are the steps to create a website in WordPress?
Choose an appropriate plan in accordance with your budget
Choose a domain and third-party hosting provider based on your plans and objectives
You will get the option to install WordPress after that. Go ahead with that!
After installing, choose a theme for your website. Go to your wordpress.org admin panel to find a theme that works best for you. Themes can be found by going to Appearance, then Themes.
You will, then, be taken to another screen where you can look through the various themes or search for a specific one.
Now, you can add new pages and posts to your website. Click on the Publish option when your post or blog is ready to go live.
You can add titles, insert images, and embed videos. You can write your content that should be visible to your customers. You always have the option to customize the settings of your website.
Now you can add plug-ins to your site and according to your hosting provider, you might have some plug-ins installed already, but you can also add other plug-ins. Do not forget to activate them!
Work on your SEO to improve the various aspects of your website such as page loading speed, mobile friendliness, etc.
The most interesting thing about WordPress and why you should take up a project aimed at learning WordPress is the freedom it gives you to develop a website even if you are not a developer.
You can also improve your writing skills through consistent blogging. It's the real deal; go for it!
Want to crack digital marketing interviews? Look at our blog on Top Digital Marketing Interview Questions and Answers.
Social Media Analysis
Social media has been serving as one of the greatest platforms for reaching out to customers. It is a treasure of immense opportunities to connect with customers. So, companies have been investing time and effort in social media campaigns. Thus, helping them analyze their progress and tracking their results and efforts will grab you a good career in digital marketing.
You can always take up a project that analyzes social media. There are so many tools to learn and here are a few of them—HubSpot, Keyhole, Snaplytics, Google Analytics, and YouTube Analytics.
We will take a look at YouTube Analytics for the time being.
Want to learn more about social media marketing, then register with Intellipaat's Social Media Marketing certification course.
YouTube Analytics
If you have a YouTube channel it is easy to navigate to the analytics section. YouTube provides a free facility to analyze the performance of your channel.
The steps to access YouTube Analytics are:
Go to your YouTube account and sign in.
Go to your profile and click on YouTube Studio
Get analytics from the dashboard
Switch back and forth between Overview, Reach, Engagement, Audience, and Revenue to learn more.
Click on Advanced Mode for a complete breakdown and comparison of data.
Other Digital Marketing Project Ideas
If you are still searching for many simple digital marketing project ideas online, do not worry! We have got that covered as well.
You can volunteer for a project to investigate customer satisfaction for any digital marketing company. This will help you to have a good grasp of the strategies used by the company, how well they are implemented, and to what extent these strategies are successful. This will be a lifetime asset in your digital marketing career.
Another digital marketing topic is conducting surveys to get more information about digital marketing companies and their strategies. Make sure to curate meaningful and thoughtful questions. You can also go for a case study on ROI for various digital marketing strategies. This will equip you with practical experience in Digital Marketing. Such projects investigating the ROI of various digital strategies will throw some light on the financial aspects of Digital Marketing.
Conclusion
Projects are crucial in any learning process and are inevitable in digital marketing. Time has flown from the age of cramming books and theories to the digital world where practical knowledge matters. Thus, hoarding knowledge is not sufficient today and practical knowledge is mandatory to bridge the gap between academia and industry.
We should not forget the fact that hands-on experience on projects will increase critical thinking skills, boost self-confidence, and promote an in-depth understanding of concepts.
Still, confused about which project to take up? Talk to our experts in our Digital Marketing community!
The post Top Digital Marketing Project Ideas appeared first on Intellipaat Blog.
Blog: Intellipaat - Blog