---
Top 6 Startup Events in 2021
Blog: NASSCOM Official Blog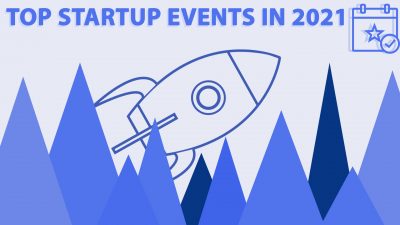 The most anticipated startup events for Q1 and Q2 2021 in Europe.
2020 was a difficult year that brought a whole bag of change with it. Since last March, we have been attending our favorite events and conferences only online, from the safety of our homes and comfort of the couch.
Many of those were postponed or even cancelled, and some of those might have been your favorites, but don't fret! Here are some of the best startup events, I think any founder should be looking forward to, in the first half of 2021!
Startup Grind 2021 – February 22-25, 2021
Where: Virtual Event
Presented by Startup Grind, the 2021 Global Conference will bring together startups from around the world. The new virtual and choose-what-you-pay model makes this year's event more accessible for startups globally than ever before.
What to expect: Join 15,000 others for conversation and collaboration around tech, startups, and the future of innovation!
Pause Fest 2021 – March 1 – 12, 2021
Where: Virtual Event
Pause Fest 2021 is the world's leading festival for business and creativity and brings diverse intelligence together to fuel the next generation forward. Hear from the world's leading minds in a high definition transmission of the future.
What to expect: This event creates a culture for creators and innovators to come together and share their projects, knowledge, passions, and insights openly, freely, and generously for the benefit of the entire community.
Silicon Valley 5-Day Entrepreneurship Training – April 20 -24, 2021
Where: Barcelona, Spain
A 5-day intensive acceleration in Catalonia starting in April 2021 – a startup bootcamp and crash course in business and entrepreneurship designed to bring a combination of knowledge & practice to startup founders and transform outstanding ideas into successful companies, providing resources, know-how and network. Initially planned for 2020, it was postponed to April 2021 due to the pandemic.
What to expect: 100+ tech startup teams, 150+ investors & CVCs, 20+ exclusive interactive workshops, 4 months of fundraising acceleration through InnMind Platform, Silicon Valley resources, "know-how" lectures, practical cases, networking opportunities & strategic development techniques!
EU Startups Summit – April 29-30, 2021
Where: Barcelona, Spain
The EU-Startups Summit will gather over 1,500 founders, startup enthusiasts, corporates, angel investors, VCs, and media from across Europe. The two-day event is a great opportunity for networking, and a meeting point for aspiring entrepreneurs and investors who are aiming to build international tech companies.
What to expect: Talks with internationally successful founders, networking opportunities (with a dedicated networking app), workshops, and an exciting pitch competition with 15 finalists – selected from about 1,000 applicants.
Where: Barcelona, Spain
4YFN Barcelona brings together the international startup community where innovators, founders, creators & leaders gather to shape the future. With key-decision makers and industry leaders on site, 4YFN aims to expand your professional network and help you achieve your goals. This event is perfect for Founders, Tech Aficionados, Corporates & Investors!
What to expect: The event brings together innovators, business leaders, and futurists to focus on a common theme, which this year is "Connected Impact". At the core of 4YFN 2021 will be keynotes by influencers and pioneers, discussions among top experts of the industry – as well as insightful startup pitches.
Digital Enterprise Show – May 18-20, 2021
Where: Madrid, Spain
Digital Enterprise Show enables digital business transformation to happen, gathering cutting edge technologies and top-notch speakers to meet delegates´ objectives, challenges and needs.
It is a high potential B2B platform to generate business, elevate the brand, strengthen thought leadership and reinforce business relationships with relevant stakeholders.
What to expect: This event connects the most innovative companies, providers of tech solutions based on AI, IoT, Cloud, Cybersecurity, AR/VR, Data Analytics, Mar&AdTech, 5G and solutions designed specifically Digital Marketing and Industry 4.0, with C-Level Executives and purchase decision-makers!
The post Top 6 Startup Events in 2021 appeared first on NASSCOM Community |The Official Community of Indian IT Industry.