---
Top 2020 RPA and Artificial Intelligence Articles | UiPath
Blog: UIPath.com
Every year, we like to look back and review the articles that you, our readers, loved most. Looking at your favorite 2020 blog posts, two big themes emerged: COVID-19 and artificial intelligence (AI).
COVID-19 dominated the headlines all year, and while pandemic news may have felt overwhelming at times, it resulted in some inspiring applications of automation to help global companies respond to the crisis.
2020 was also a time when we all considered a new future of work. Many of your most popular posts involved AI, a technology that is getting more practical and widespread by the day.
Join me for a review of your favorite posts from 2020. If you missed any, now's the best chance to get caught up. And if you're looking for a big-picture view of automation in 2020, this is the place to start.
This introduction to UiPath Document Understanding was the most-viewed 2020 blog post. Every company has documents, so every company has a reason to process documents faster. In this post, we introduce the world to UiPath Document Understanding, which combines robotic process automation (RPA) and AI to automatically process documents.
Related reading:
This article highlights companies using software robots to prioritize the health of their employees. The Health Screening robot took center stage as it helped healthcare workers capture data and maintain social distancing (and it's still available for free in UiPath Marketplace!).
Related reading: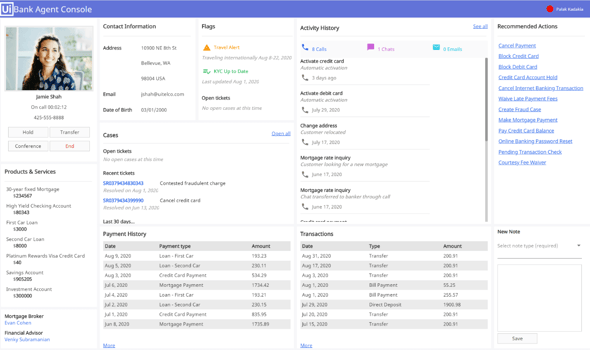 At our DevCon event and the Reboot Work Festival, we introduced UiPath Apps, a low-code app builder that developers can use to create experiences powered by automation. In this post, readers learn about App Studio, which lets users build beautiful, professional apps through a browser-based, drag-and-drop interface. You also learn about how automation powers UiPath Apps.
Related reading:
Companies looking to take up automation often have questions about which automation technologies are right for them. This post describes the differences between RPA automation and API automation and explores use cases for each. Importantly, it also shows how, despite the differences, the best companies will use both technologies where appropriate. As our CEO Daniel Dines said during the Reboot Work Festival, "The power comes in the combination. It's using the right tool for the right job."
Related reading:
The two biggest product releases across the UiPath Platform last year were the 2020 Full-Term Support (FTS) and the 2020 Long-Term Support (LTS) later in the year. There were so many updates to speak to that we created an entire release series. This article walks you through everything in the 2020 LTS (or 20.10 for short) release series (from webinars to blog posts and demos).
Related reading:
AI has been top of mind for years, and 2020 was no different. What was different, however, was the release of UiPath AI Fabric in the cloud: a fully managed software as a service (SaaS) platform for UiPath AI Fabric. In this article, we explain why RPA needs AI, why AI needs RPA, and how UiPath AI Fabric in the cloud brings both together in a highly available, highly scalable service.
Editor's note: As the automation market continues to evolve, the UiPath Platform also updates to best serve the automation needs of our customers. As such, some of the product names in this article have evolved since the article was originally published. For up-to-date information, please visit our AI Center page.
Related reading:
During 2020, we faced the prospect of a world forever changed by COVID-19. In this article, you see how automation can play a role in building a new future. Find out why hospitals, governments, and healthcare providers are turning to automation and explore how they've transformed their businesses to meet this new reality.
Related reading:
Businesses everywhere are facing the challenge of maintaining and improving operational efficiency. As companies grow in size and across regions, this challenge only gets harder. This post dives into process mining, a technique for gathering and analyzing data across systems.
Related reading:
Companies that implement RPA often struggle to get all the benefits they expect of an automation program. Here, this post introduces a model that offers organizations a holistic view of all the automation program decisions their teams need to make. This article, part one in a three-part series, explains the four stages that many organizations go through as they pursue automation at scale.
Related reading:
AI is a big, sometimes nebulous cluster of technologies that nevertheless promises immense benefits to companies that can harness it. UiPath focuses on practical AI—technologies that can deliver tangible results in realistic scenarios. One of the barriers companies face is when they lack employees with extensive data science backgrounds. This article covers UiPath Starter Models, one answer to this problem.
Related reading:
Businesses are often overloaded with documents. There's immense value in the information contained in these documents, but that value is often trapped, unable to be integrated into an organization's wider digital system. This article explores the document understanding ecosystem, a whole world of tools and technologies purpose-built to address this problem.
Related reading:
Scaling RPA programs can be difficult. If departments work in silos, robots can start to break as teams bring automations together. Enter UiPath Test Suite. This article walks you through how Test Suite helps companies proactively test automations as they scale them across an enterprise.
Related reading:
This post introduces UiPath Studio Pro—a new addition to the UiPath Studio family of products. One of our goals this year was to broaden the spectrum of developers who can take advantage of UiPath tools, and Studio Pro fulfills that goal. Studio Pro houses high-end developer capabilities, including testing capabilities and Mobile Automation.
Related reading:
One of 2020's major trends was the rise of chatbots. More and more customers want self-service options when interacting with companies, but up until now, most chatbots have focused on fulfilling simple requests. This post explains how our partnership with Druid, a company that offers a no-code chatbot platform, can help you improve customer satisfaction and engagement.
Related reading:
One of the most popular posts of the year took us back to basics: what is AI and what is RPA? It's a question worth asking, even if you think you know the answer. This post explains the differences between the two technologies, uncovers the hype that underlies both, and explores use cases for each.
Related reading:
Unleashing information from documents was a big theme for you in 2020. This post reviews some of the most common document types, takes a look at data extraction methods, examines some of the challenges companies have when implementing these methods, and reviews the benefits companies can earn if they surmount these challenges.
Related reading:
In 2020, Chief Evangelist Guy Kirkwood revisited his annual tradition of examining his predictions from last year and making more predictions for next year. In this post, Kirkwood predicts an ambitious range of events, including RPA becoming the new enterprise resource planning (ERP) for many organizations and the rise of at-home software robots.
Related reading:
Diego Lomanto, Vice President of Product Marketing at UiPath, is a lucky guy. One of the perks of working at a customer-centric company is that he gets to hear firsthand how our customers use automation and to sit in on important discussions led by innovative automation leaders at large companies. Across these feedback channels, he noticed a trend: automation leaders wanted to scale past the obvious RPA use cases. However, they needed a systemic way to discover new use cases.
Enter: the automation flywheel, which describes how the consumption of automation leads to new ideas for automation. In this post, Lomanto explains how the automation flywheel enables companies to find new use cases, deploy more robots, and democratize their automation capabilities.
Related reading:
In February of 2020, we debuted Agent Desktop, a replacement for Robot Tray. Agent Desktop provides a better experience for users deploying attended robots. This post explains some of the features behind Agent Desktop and establishes a vision for "one-stop" attended automation.
Related reading:
As global markets get more competitive, C-suite leaders look to add advantages to their companies. Companies have spent billions, and will soon spend trillions, on digital transformations that promise to deliver that edge. This post introduces RPA to the C-suite and explains how this technology can cut down operating costs, increase task efficiency, and reduce compliance errors. Want to get your C-suite excited about automation? Share this article with them.
Related reading:
In February, users explored our UIAutomation.Next initiative. The initiative presents a shift toward giving users the ability to directly interact with how software robots "see" the interface. In March, which this post covers, the initiative evolved to include many improvements, including a validation capability and a better UX.
Related reading:
In May, UiPath Automation Cloud launched, enabling users to get the benefits of automation from the cloud instead of having to set up costly infrastructure. This post introduces Automation Cloud for community and Automation Cloud for enterprise and shares some of the excitement from customers ready to dive in.
Related reading:
Healthcare organizations have long been some of the most innovative users of automation. COVID-19 put new pressures on these organizations, but with RPA, they were able to increase capacity to meet unprecedented demand. This post looks at five health organizations using software robots to decrease wait times and give essential workers more time to spend with people.
Related reading:
Rounding out your favorites from 2020 is a popular post about topics that came up again and again this year: OCR, AI, and data analysis. Eighty to ninety percent of all data is unstructured, and that lack of structure leaves a lot of value unused. Once you combine OCR with AI and RPA, however, you can analyze more data—much, much more data—than was ever possible before.
Related reading:
Rounding out your favorite posts of the year is an article about how technology helps us overcome limitations. The problem today? Time. When tedious tasks inundate people's days, there just isn't enough time to do meaningful work. This post explains how RPA is revolutionizing the workplace and how, soon, every employee will have a software robot working alongside them.
Related reading:
Make sure you don't miss any of our 2021 blog posts! Subscribe to the blog (scroll down) and get our best articles delivered to your inbox every week.
To further advance your automation knowledge, check out the recordings from the Reboot Work Festival last month. Use the button below to register for free access and then watch the on-demand recordings at your convenience: