---
The Edtech Story 7: Edtech Race during COVID-19 – The B2B Angle
Blog: NASSCOM Official Blog
The Edtech Story
A blog series by NASSCOM covering in-depth analysis of the Edtech Sector during COVID-19
#7 Edtech Race during COVID-19 – The B2B Angle
In Edtech conversations are many times focused on how much a student likes or dislikes a particular Edtech app, the quality of the content, and the teacher/mentor providing the lessons. However, we sometimes miss discussing a very important element of Edtech which is the technology platform on which the app/course is being conducted. The platform which acts as an interface between a student and a teacher during online classes, a platform which a student uses to check his/her school exam report online, a platform which allows you to read, interact, converse with each other virtually without the need to be present physically. This is where B2B Edtech firms play a big role.
B2B Edtech firms are many times overshadowed by B2C Edtech firms, however, they hold equal importance in the entire ecosystem. Indian B2B Edtech firms may not be in direct competition with B2C firms, but they do compete equally to establish a foothold in the market. B2B Edtech firms have also seen a big boost in growth during COVID-19, the major drivers for the same being schools & universities.
Online Live Classes
During COVID-19, within a day millions of school and college students were forced to stay home putting intense pressure on the educational institutions to find a way to continue teaching them at home. Providing classes online became the best and optimal solution that could be implemented within a quick timeframe.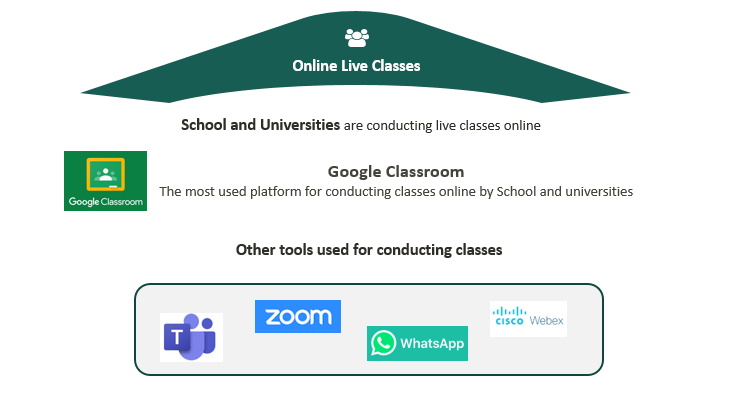 Online classes are conducted on various platforms like Google classrooms, Microsoft Teams, Zoom, CISCO Webex and Whatsapp. Google classroom is one of the most used platform as it offers multiple features that include task allocation, sharing study materials and monitoring progress.
Enterprise Resource Planning (ERP) + Learning Management System (LMS)
B2B in Edtech includes ERP and LMS based solutions. These solutions form the backbone of Edtech based offerings to students. During the lockdown when hundreds of schools and universities had to close down, these ERP and LMS solutions helped in bringing the classes online and allowed and administer students remotely. All the student's database, attendance, score sheet, syllabus, curriculum, etc.
From smart classrooms to automating school /college administration processes, B2B Edtech firms provide all necessary solutions to make them digital.
Tutoring
In recent times a new category of B2B Edtech firms has emerged which is helping coaching institutes to move online. From guiding students in K-12 education to test preparation, coaching institutes have helped many students to develop in-depth subject expertise. Now Edtech firms are helping these offline coaching institutes to move online.
These tutoring B2B Edtech firms are not new but the recent success of Classplus has brought them into the highlight. There are many notable firms in this area like Proctur, Classpro, Eduzilla, and more.
B2B Edtech firms have carved out an important place for themselves with a niche market to penetrate and scale. B2B Edtech firms provides valuable support to school/colleges/universities and is an important stakeholder in the Edtech ecosystem.
Please find below the links to our earlier blogs in this series:
https://community.nasscom.in/communities/product-startups/the-edtech-story-1-the-edtech-landscape-a-brief-overview.html
https://community.nasscom.in/communities/product-startups/the-edtech-story-2-indian-edtech-sector-takes-off-during-covid-19.html
https://community.nasscom.in/communities/product-startups/the-edtech-story-3-edtech-in-india-pre-covid-vs-during-covid.html
https://community.nasscom.in/communities/product-startups/the-edtech-story-4-indian-edtech-firms-the-winners-and-innovators.html
https://community.nasscom.in/communities/product-startups/the-edtech-story-5-edtech-funding-during-covid-19-a-brief-analysis.html
https://community.nasscom.in/communities/talent/edtech/the-edtech-story-6-edtech-stakeholders-in-covid-19-changing-strategies-changing-moves.html
The post The Edtech Story 7: Edtech Race during COVID-19 – The B2B Angle appeared first on NASSCOM Community |The Official Community of Indian IT Industry.