---
The Edtech Story #5: Edtech Funding during COVID-19: A Brief Analysis
Blog: NASSCOM Official Blog
The Edtech Story
A blog series by NASSCOM covering in-depth analysis of the Edtech Sector during COVID-19
#5 Edtech Funding during COVID-19: A Brief Analysis
Funding has played a key role in the growth of many sectors in India. Be it Fintech, e-commerce, Healthtech and others, all are majorly driven by the right funding at the right time. Funding complements an entrepreneurs' ability to give its start-up the required boost. Edtech funding has not been the same since COVID-19 and the shift is highly distinctive.
H12020 vs. H12019
Comparing H12020 with H12019 funding data is a simple analysis and in this H12020 is the clear winner. Over $700 mn was raised in H12020 compared to ~$150mn in 2019. Almost 4X jump in funding and 2X jump in the number of deals. However, point to note is that more than 50% of the H12020 funding was raised between January and February 2020 which is the also the time before COVID-19 had become ubiquitous.
COVID Effect on Funding
After the March lockdown and outbreak of COVID-19, things changed drastically and so did the perspective and priorities of investors. If we talk about the Edtech funding compared to other verticals, during H12020 Edtech leads the race with ~20% share followed by travel and real estate with 18% and 15% share respectively.
Edtech funding has always been dominated by few players and it continues to be so but a surprisingly new trend has emerged.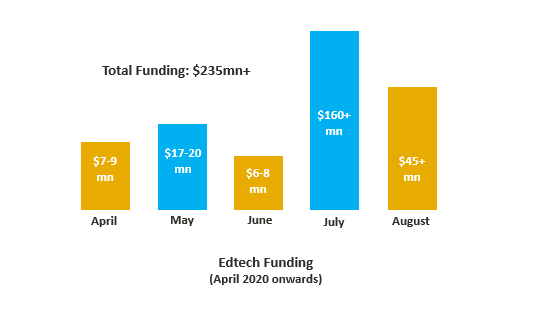 The above chart indicates the funding scenario during the 5 crucial months of lockdown when COVID-19 was at its peak. Funding raised increased month on month as Edtech requirement and interest kept increasing. The funding raised by start-ups in the above months are not much known before COVID but they have proved their worth overtime by increase in their subscriber base, which lead to attracting investor's interest. The innovation these start-ups have exhibited has brought them into the limelight. The funding raised during these months was led by Vedantu, an interactive online tutoring platform which raised $100 mn followed by Springboard which raised $31 mn. COVID-19 has not only brought these Edtech start-ups in the forefront but also helped them scale-up and generate investor's interest.
Key Start-ups Raising Fund during COVID-19
In the image above you will find start-ups focused on different areas raising funds indicating the varied and changing interests of investors during COVID-19. From pre-school to K12, from coaching to colleges, from test preparation to upskilling, investors have invested in start-ups of various domains.
On analyzing this data deeper, we find investor strategies have also shifted considerably. Though investors like Tiger Global, General Atlantic, Steadview Capital, Blume Ventures, Nexus ventures, Sequoia continue to focus on the established players, a different league of investors like Infoedge, Unitus ventures, Picus capital, Inflection point ventures etc. are targeting new and emerging Edtech firms.
Established and well-known Edtech firms continue to raise bigger investments, small and lesser known firms have raised lower ticket size funding. The strategy being, bigger firms focus on expansions and acquisitions while new start-ups focus on innovation and scaling. Whichever be the case, the winner will always be the consumer, helping Edtech reach each and every corner of our country.
New strategies for the new normal is what Edtech ecosystem players are focussing upon and that will be the topic of our next blog – how Edtech stakeholders are changing moves to stay ahead.
Please find below the links to our earlier blogs in this series:
#1 The Edtech Landscape a Brief Overview
https://community.nasscom.in/communities/product-startups/the-edtech-story-1-the-edtech-landscape-a-brief-overview.html
#2 Indian Edtech Sector Takes Off During COVID-19
https://community.nasscom.in/communities/product-startups/the-edtech-story-2-indian-edtech-sector-takes-off-during-covid-19.html
#3 Edtech in India- Pre-COVID Vs During COVID
https://community.nasscom.in/communities/product-startups/the-edtech-story-3-edtech-in-india-pre-covid-vs-during-covid.html
#4: Indian Edtech firms: The Winners and Innovators
https://community.nasscom.in/communities/product-startups/the-edtech-story-4-indian-edtech-firms-the-winners-and-innovators.html?preview_id=28448
Source: Inc42, Entrackr, Tracxn, Your story
The post The Edtech Story #5: Edtech Funding during COVID-19: A Brief Analysis appeared first on NASSCOM Community |The Official Community of Indian IT Industry.