---
The Edtech Story #3: Edtech in India – Pre-COVID vs During COVID
Blog: NASSCOM Official Blog
The Edtech Story
A blog series by NASSCOM covering in-depth analysis of the Edtech Sector during COVID-19
#3 Edtech in India: Pre-COVID vs During COVID
In our previous two blogs we have covered details about the Edtech landscape, Indian ecosystem strengths and its global standing. The COVID situation has catapulted the Edtech sector into the limelight. In this blog we will compare how the Edtech sector has changed, before and during COVID, in a short span of six months. During this period Edtech has grown to become one of the most favorable sectors. Some of the key parameters that show its growing prominence are enumerated below
Market Size
With a sudden spurt towards online education, the market size projections for Edtech in India by 2022 has seen a substantial increase. As per a recent report, the Edtech market in India is projected to reach $3.5 bn by 2022 which was earlier projected to be in the range of $2.8- $3.2 bn. Edtech market size in 2019 stands at $735 mn
Market Size Projections (Pre-COVID vs. During COVID)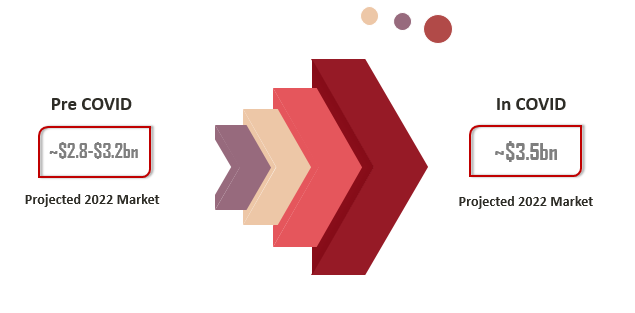 This growth is expected to be driven by K12, Higher Education, Test Preparation and Upskilling. With more and more adoption towards Edtech and a different outlook for education in the post COVID world, we can expect a bigger number than this.
Funding
Funding, a key factor contributing to Edtech growth also saw a substantial shift during COVID. Nearly 5X growth in funding was observed in H12020 compared to H12019. With $847 mn funding till August 2020, it is already 2 times the total funding in 2019. Major portion of this funding is accounted by Byju's and Unacademy which collectively raised over $300 mn. Many new start-ups have also raised funding during this period like iNurture, Masai, Campk12, Pedagogy, Lido and more. Funding deals have also jumped over 2.5X, from 20 in H1 2019 to 40+ in H12020.
Rise in Funding (Pre-COVID vs. During COVID)
5X growth is huge if we analyze the current economic and business environment. Investors are now betting on Edtech as a long term prospect and a growing business. We will be covering the funding scenario in detail in our subsequent blog.
Traffic Shift
Another key difference was seen in the movement of students towards Massive Open Online Courses (MOOC). Though paid subscribers have also seen an increase, MOOC saw a bigger uptrend post lockdown.
Rise in Traffic (Pre COVID vs. During COVID)
Edtech firms like Udemy, Byju's, Coursera, and Doubtnut saw a substantial rise in traffic share. There is a consistent increase in these numbers every month. Courses on data science and digital marketing are some of the topics of interest among students.
Engagement (Time Spent)
50% rise has been observed in the engagement level of students during the lockdown period. Rise in time spent online has been observed not just among K12 and Post K12 students. As per a recent Linkedin survey, almost 63% of professionals have increased their time spent on online learning to enhance their skills or reskill themselves to stay relevant.
As per BARC India and Nielsen report there has been 30% increase in time spent on education apps which actually lead to over 120% growth in digital ad spends by Edtech apps. 88% rise in number of people downloading Edtech apps has also been recorded.
Subscriber Base:
A significant rise is seen in the subscriber base of Edtech firms. As research indicates, user base for K12 segment has increased from 45 mn to 90 mn. If we talk about some of the Edtech firms: Byju's added 7.5 mn new users during the lockdown, Toppr also recorded 100% growth in the paid user base.
Pivoting:
During the lockdown many start-ups are pivoting to other businesses. As per a recent NASSCOM Start-up Pulse Survey Q1 2020, 54% start-ups are seeking opportunities to pivot. Edtech is one of the key sectors that start-ups are looking to expand to either by building new solutions to cater to the huge requirement or by partnering with other stakeholders to provide services.
The metrics enumerated above clearly validates the growth of Edtech as a sunrise sector during the COVID era. A deep dive further will help evaluate the scenario better. We will continue our analysis in our subsequent blogs. Do read our Edtech story blog series and share your feedback with us.
Please find below the links to our 1st and 2nd blog in this series:
Source: RedSeer Report, Linkedin, Inc42, Yourstory, News Articles, NASSCOM
The post The Edtech Story #3: Edtech in India – Pre-COVID vs During COVID appeared first on NASSCOM Community |The Official Community of Indian IT Industry.