---
The Biggest BPM News Items During the First Half of 2021
Blog: Solutions Review - Business Process Management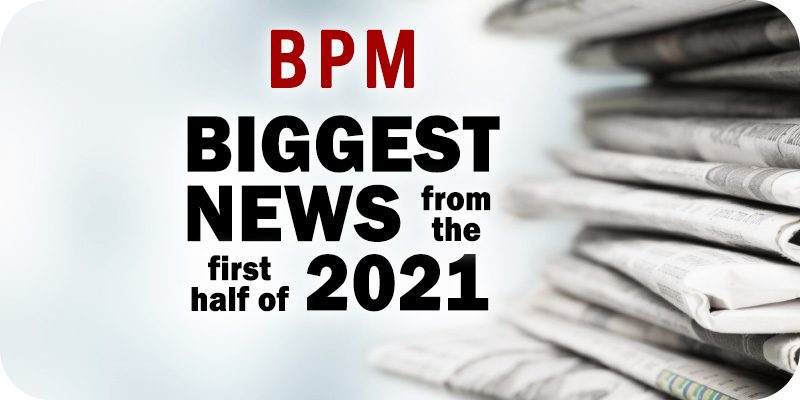 Our editors curated this list of the biggest BPM news items during the first half of 2021, as highlighted on Solutions Review.
The concept of business process management (BPM) has been around for centuries, first being used during the industrial revolution. The dawn of computer technology brought the framework for business process management companies as we know it today, focusing on task efficiency, quality management, and continuous flow. However, it's only been in recent years that we've seen the technology change into what we know it as today. With the ability to generate complex computer applications, companies have begun to understand the benefits of using BPM to change quickly and inexpensively. Today, these tools have evolved to become fully scalable, visual, mobile, and integral platforms providing organizations with process insight and control like never before.
Part of Solutions Review's ongoing analysis of the business process management marketplace includes covering the biggest BPM news stories that have the greatest impact on enterprise technologists. This is a curated list of the most important BPM news items from the first half of 2021. For more on the space, including the newest product releases, funding rounds, and mergers and acquisitions, follow our popular BPM news section.
The Biggest BPM News Items During the First Half of 2021
Pegasystems Inc. recently announced its acquisition of Qurious.io, Inc. The acquired company is a cloud-based real-time speech analytics solution provider powered by artificial intelligence for customer service teams. Terms of the acquisition have not been disclosed. Qurious.io's SaaS offering utilizes speech-to-text, natural language processing, and emotion detection features to analyze the dialog within each customer service call as it happens.
In a press statement, Kerim Akgonul, senior vice president of products at Pegasystems, said, "while automated chatbots are increasingly more popular with consumers, live service agents are still left to handle the toughest customer problems over the phone. Qurious.io's real-time speech analytics proactively helps agents resolve these difficult requests with revenue-producing Next-Best Actions. Their cloud-native approach perfectly complements how Pega uses AI across engagement channels, enabling our clients to provide consistently superior customer service from end to end."
SAP and Signavio recently announced that SAP has entered into an agreement to acquire Signavio. Combining the Business Process Intelligence unit of SAP with Signavio will strengthen SAP's capacity to help organizations understand, improve, transform, and manage their business processes at scale. The acquisition is expected to close in the first quarter of 2021, subject to regulatory approval.
In a press statement, Dr. Gero Decker, Co-founder and CEO of Signavio said, "by joining SAP, we tap into the broadest business application software portfolio in the market, running the processes of the world. Considering the positioning of SAP, its geographical coverage and financial muscle, SAP is the biggest and best platform to bring process intelligence to every organization. For us, it's a massive jump start and a major opportunity to help SAP become a key player in the business process management and intelligence space."
Creatio has announced a $68M capital raise led by Volition Capital, a US-based growth equity firm investing in high-growth companies. There was additional participation from Horizon Capital, a private equity firm investing in Europe. The funding is a minority investment to fuel the company's growth, with Creatio's strategy, leadership team, product vision, and commitment to customer success remaining unchanged.
In a press statement, Katherine Kostereva, CEO and co-founder of Creatio, said, "our vision is a world where everyone can automate business ideas in minutes. Now is a critical time for digital and IT leaders to leverage tech and transform their organizations into low-code companies. This investment will allow us to keep building toward the vision of creating a new world, where any company can automate and change their business processes at speed and scale."
Camunda announced today that it has completed an €82 million (approximately $100 million) funding round led by global venture capital and private equity firm Insight Partners. The round also included existing investor Highland Europe. The investment is based on market momentum toward hyperautomation and the resulting need for cloud-native, open process automation solutions that can automate any type of process, anywhere. Additionally, Camunda will leverage Insight Partners' expertise in effectively scaling companies and accelerate product development, sales, and marketing initiatives as part of its global expansion.
In a press statement, Matt Gatto, managing director at Insight Partners, said, "process automation is a multi-billion dollar global market opportunity. Camunda has been breaking new ground with their business model and cloud-native technology. As a result, they have become a driving force shaping the new process automation market. We have been impressed with the tremendous value Camunda's innovative approach has provided for some of the world's most demanding organizations. Camunda's success demonstrates how an open, standards-based, developer-friendly platform for end-to-end process automation can increase business agility and improve customer experiences, helping organizations truly transform to a digital enterprise. We are excited to be part of Camunda, helping to scale the company for even bigger growth."
Today, iGrafx announced that the enterprise software-focused investment firm, Banneker Partners, has invested in the business process management and automation solution provider. Banneker's software expertise, extensive track record, and deep capital will empower iGrafx to pursue its strategy focused on providing value and innovation to users by investing in sales, marketing, product development, professional services, customer support, and further strategic acquisitions.
In a media statement, Andrew McFarland, CEO of iGrafx, said, "we believe the market is at a significant inflection point. The global pandemic that we all experienced over the last year was a wake-up call for many organizations and has driven increased demand for software like ours that enables organizations to respond to disruption with agility. Business process management, process mining, workflow automation, and RPA are coming together today to give organizations incredible power to drive forward digital transformation initiatives and become more responsive to market conditions. iGrafx plays an essential role in this and the iGrafx team and I are thrilled to be partnering with Banneker to help our customers to evolve, transform, and succeed in a constantly changing business environment."
Nintex has announced the vendor has acquired the electronic signature and digital transaction management (DTM) software provider, AssureSign. The goal of this acquisition is to help meet customer demand for a native eSignature capability within the Nintex Process Platform. With the Nintex Process Platform, public and private sector organizations across multiple industries are enhancing the user experience, reducing costs, and improving operations by visually mapping and managing business processes with Nintex Promapp. The platform also accelerates digital transformation with mobile apps, digital forms, workflows, RPA, DocGen, and eSignatures.
In a press statement, Eric Johnson, CEO of Nintex, said, "we are excited to welcome eSignature leader AssureSign and its customers to our burgeoning Nintex community. AssureSign's automation technologies, like with our previous acquisitions, are well architected and will be integrated within the Nintex Process Platform over the months ahead to bring powerful and easy-to-use digital signatures to every organization that is leveraging Nintex to improve the way people work."
The post The Biggest BPM News Items During the First Half of 2021 appeared first on Best BPM Tools, Vendors, Software and BPMS.