---
Start-ups in Recovery Mode during COVID-19: Food-Tech Leads the Race
Blog: NASSCOM Official Blog
Start-ups in Recovery Mode during COVID-19
Food-Tech Leads the Race
COVID-19 has impacted almost every vertical in the start-up space. Some saw positive growth while for some it was a nightmare. We have already talked a lot about the verticals which saw a substantial growth during COVID-19 like Edtech and Healthtech, however the list of affected verticals is also not short.
Now we are at that juncture of COVID-19 where we are seeing some kind to recovery in the adversely affected verticals. Different sectors are slowly and steadily witnessing recovery in revenues and some level of positive growth. The vertical which actually leads the recovery story is Food tech.
The numbers of the top Foodtech firms; Zomato and Swiggy says it all.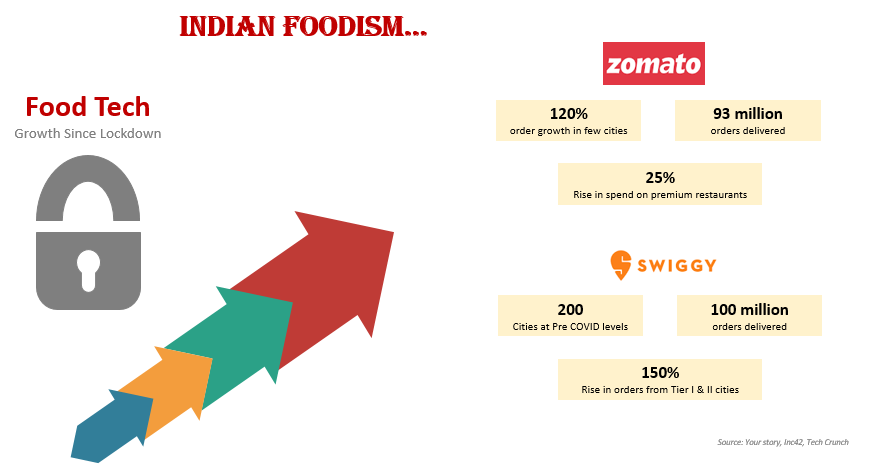 Zomato
Many cities in India have surpassed their pre-COVID orders, few cities are at 120% of pre-COVID peaks
Since the announcement of a country-wide lockdown in March 2020, Zomato has delivered 9.3 crore orders
Spend on premium restaurants have grown by 25% over pre-COVID levels
Swiggy
100 million orders delivered since lockdown
Orders recovered to pre-COVID levels in 200 cities
Food delivery from Tier-1 and Tier-2 cities performing at 150% pre-COVID levels
7000 new restaurants are being onboarded every month, the number was 3000 before COVID.
Above data showcases the strong comeback underlying which is the efficient and effective management of these delivery platforms.
As per BCG Indian Foodtech sector is set to grow at a CAGR of 25-30% to reach $ 8 billion by 2022. Funding in the sector is also outpacing many other sectors. With Zomato leading the race and moving towards their IPO in Q12021, many new Foodtech start-ups are attracting investors and raising funds.
Foodtech start-up funding on rise:
Zomato raised $100 mn in September and $62 mn a week earlier
Hoi Foods, a cloud kitchen rasied $2 mn in Pre Series A funding
Biryani by Kilo raised ~0.9 mn in Series B
Daal Chini rasied ~0.7 mn in Pre Series A
Kitchen Centre, cloud kitchen start-up raised $500k in seed round
and more..
Institutional Foodtech company like Hunger Box also see COVID-19 as a beneficiary. They offer comprehensive tech-led solution to enable a delightful cafeteria experience to all stakeholders which saw a great demand during COVID-19.
In short, FoodTech is moving up the ladder and could record an Edtech or Healthtech sector type growth in the coming months.
Sources: Inc 42, Your Story, News Articles
The post Start-ups in Recovery Mode during COVID-19: Food-Tech Leads the Race appeared first on NASSCOM Community |The Official Community of Indian IT Industry.