---
Re-imagining Edtech – the COVID Effect
Blog: NASSCOM Official Blog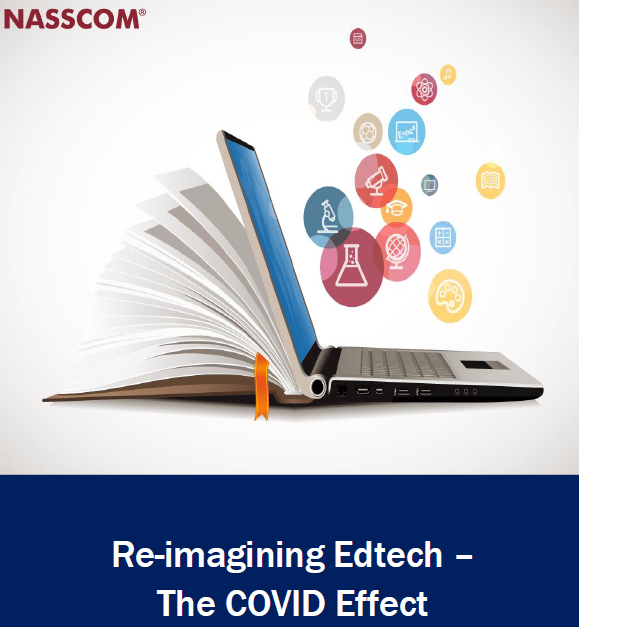 "Re-imagining Edtech – the COVID Effect" underlines the importance of Edtech in the COVID era and how the stakeholders in this ecosystem have changed their strategies to adapt to this new normal. The report also highlights how COVID lead to the growth of Edtech firms and development of trust towards them by investors, students, parents.
Indian Edtech industry got a significant boost this year due to COVID-I9
• The spike in interest levels towards online education observed from March 2020 onwards.
• 5X Growth in Funding during H12020
• Funding deals have also increased by over 2.5X, from ~20 in H1 2019 to 40+ in H12020
Overall Growth:
• Traffic Shift- Growing interest towards MOOC courses
• Engagement-50% rise in time spent; up from 60 to 90 minutes
• Subscriber base- over 83% increase in paid users
Investor Focus:
• Edtech funding compared to other verticals, leads the race with ~20% share in H12020
• ~$1bn funding done by investors from Mar- Sept 2020
• Investors also invested over ~$200mn in new and innovative start-up from Mar-Sept 2020
Key Takeaways:
• Online learning is here to stay, need school/ universities to go digital
• New Edtech start-ups are imminent with shifting investor focus and rising demand for Edtech products
• Schools & universities need to partner with Edtech firms for relevant courses and technology collaborations
The post Re-imagining Edtech – the COVID Effect appeared first on NASSCOM Community |The Official Community of Indian IT Industry.