---
Project management software for freelancers: what to look for
Blog: Monday Project Management Blog
Are you struggling to keep track of all your different clients, projects, and deadlines? All freelancers have a moment when messy spreadsheets or notebooks are no longer enough.
To keep growing your business and get better clients, you need to get organized.
With project management software for freelancers, you can keep track of all your clients, projects, workflows, contractors, and tasks.
In this article, we'll share what freelancers should look for in project management software and how you can set it up to maximize your productivity.
What is project management software for freelancers?
Project management software for freelancers is a solution that helps freelancers stay on top of tasks and projects — without heavy enterprise features.
Suitable platforms offer task management, order management, and maybe even customer relationship management.
A basic project management tool like a task or to-do list app won't cut it. You need something that can help you create a high-level overview of your entire business.
For example, Adam Huckerby, a freelance music producer and teacher, uses monday.com to manage his "master plan."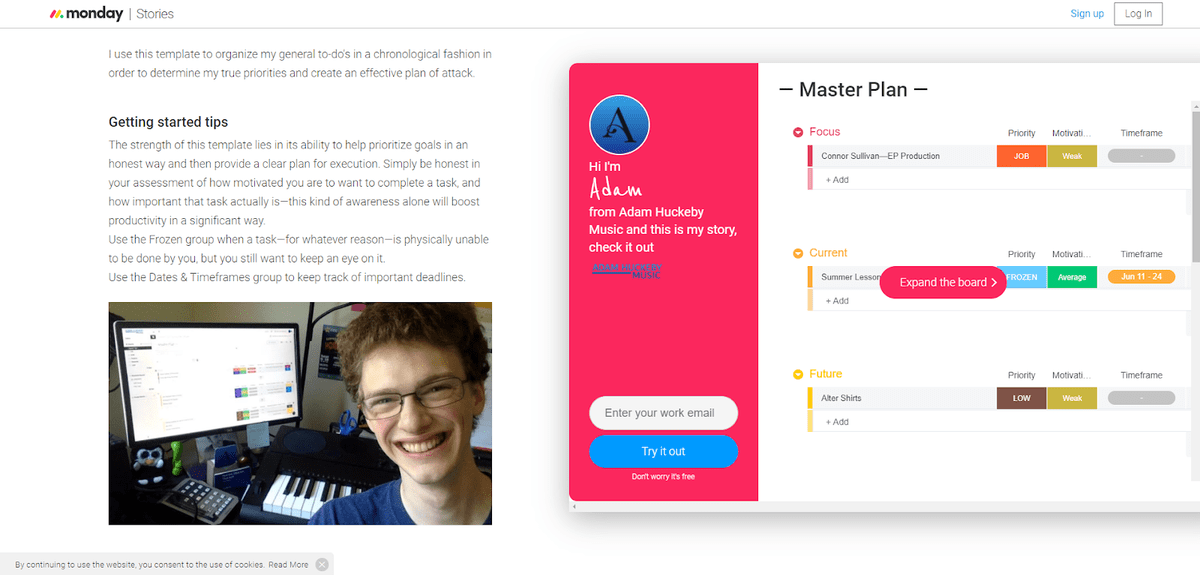 It's an overview of all incoming client requests, current focus areas, upcoming events, and more.
As a freelancer, you need to focus on not just client work but everything else you need to do to keep your business up and running. Marketing, event planning, and more — every piece of the puzzle is crucial.
Adam summed all of this up into a single board to help him stay focused. And this is only scratching the surface of what you can do with our platform.
You can connect multiple boards using automations, share unique progress boards with clients as guest users, visualize the progress with Gantt charts, and much more.
It's not just something you need as a freelance project manager — they're useful for any freelancer.
To help you understand why this type of software can be so powerful, let's start by looking at the unique issues that freelancers face.
Unique challenges of freelancers
Freelancing offers a lot of unique challenges you don't face in a regular workplace. For example, you have to wear multiple hats and deal directly with demanding clients.
For most new freelancers, this can feel very overwhelming — unless you're organized.
Keeping track of multiple clients
The average full-time freelancer works with a variety of different clients, according to a recent Upwork study. 23% even have a mix of projects with a fixed and hourly rate.
So at the very least, you need some way of tracking your work hours and separating fixed from hourly client projects.
Many freelancers who do smaller projects, like writers or designers, can have a much higher number of clients.
For example, they may work with 5 clients, or more, during a single month rather than over a 6-month period.
At that point, accurately tracking and separating all the work you do is a crucial part of your job.
It's a lot easier if you have a time tracker and other tools to handle multiple projects.
By staying organized, you'll never have an issue with over or underbilling and reduce the chance of delays.
Remotely collaborating with clients
73% of skilled freelancers work remotely. "Skilled freelancers" are virtually anyone who does freelance work outside of manual labor and Uber-style driving.
It includes everyone from writers, programmers, and consultants, to accountants, photographers, plumbers, and more.
Everyone who does any freelance work related to digital media, coding, or technology is likely to work with remote clients, not just local ones.
In a post-COVID-19 world, you may even work remotely with local clients. Effectively collaborating and getting their input at the right time is a big issue for freelancers.
If a single email or phone call is missed, things can often spiral out of control, putting your client relationship at risk.
With a platform like monday.com, you can share the real-time status of your project directly with your client. They can see all the deliverables you've finished and can upload the files directly to your board.
You can even set up a Gantt chart to help them gauge your progress versus their plans.
Handling all aspects of your business by yourself
A freelancer must handle all aspects of their business by themselves — sales, marketing, customer relationships, and more. Without the right tools in place, it's easy to lose track and spend your time on the wrong things.
With robust, extensible project management software, you can keep everything under control.
It's easy to categorize and prioritize tasks from urgent client work to optional marketing ideas.
With a full Work OS like monday.com, you can also log all clients and leads in a CRM, including all interactions and deal and project details.
You can outline your marketing plans, including your content calendar and strategies. You can even set up a Kanban board for ideation.
To top it off, automating recurring tasks is easy. You can set up notifications and create a much smarter workflow. When set up correctly, monday.com feels more like your assistant than a piece of software.
Even if you've hired a virtual assistant (VA), it's the perfect way to make their life easier and free your time up from constantly giving directions.
You can set up an automated process to assign tasks to your VA.
For example, every time a work request comes in, a new card is created and assigned. You can even attach email templates suggesting different responses to the requests.
To be a successful freelancer, it's not enough to be good at what you do. You have to set up the right framework to set yourself up for success.
In the next section, we cover exactly which features you need to master your freelance workflow.
Top features to look for in project management software for freelancers
As a freelancer, the fewer individual tools you have to deal with, the easier your life will be — saving money is also a nice bonus.
So what you're looking for isn't a basic to-do list but a full-featured platform that gives you total control over your business.
Customer relationship management (CRM)
For any freelancer with more than one major client, a basic CRM is a must. You don't want to go diving through email threads every time you need to confirm details on a lead or customer.
Instead, you want a single dashboard you can go to, which gives you a complete overview of all your existing and potential clients and deals.
In monday.com, you can, for example, use our sales pipeline template to keep track of this.
Of course, since you're not a multinational corporation, you don't need a lot of the advanced features of a dedicated CRM solution.
But basic integrations and automations are crucial to maintaining an up-to-date client register.
Custom templates that reflect your workflow
The goal isn't to completely relearn how to work from scratch. So, the ability to customize everything to suit your workflow is crucial.
You should be able to edit all templates and boards to create a custom experience. If it doesn't reflect your real workflow, it's not a useful task management tool.
Stay away from any project management app that doesn't offer customization.
Guest account access and user controls
One of the benefits of using PM software for freelancers is that it can help streamline collaboration with your clients.
The best way to do this is to create dedicated boards for each client project. You can then share guest account access to give them a real-time look into your progress.
You also may want user permission controls to limit guest user access to edit certain items. The last thing you want is a client messing around with a board after you've set it up.
Visualization tools to help you stay on top of everything
It's a lot easier to understand the current state of your business with a visual overview.
monday.com offers a lot of options for visualizing the status of your projects. Instead of having to dissect different boards one by one, you can set up a real-time dashboard for all your projects.
You can also create a Gantt chart view for your projects and color-code different stages by whether they're overdue, completed on time, or in progress.
It's perfect for detailed project planning and milestone tracking.
You can also benchmark your projects by setting expected dates and actual finish dates for work items.
Time tracking
If you have any hourly contracts, in-platform time tracking is the easiest way to keep track of your billable hours.
It also makes it easy to get more granular, breaking down hours by specific tasks or deliverables. That makes invoicing a breeze, as you can just copy and paste the data.
Take control of your freelance day-to-day with monday.com
Are you ready to transform how you work, get more organized, and finish more crucial tasks every single day?
monday.com can help. And you don't have to pay for a prohibitive enterprise plan to get started.
Freelancer-friendly pricing
First off, let's just allay any fears you may have that project management software is out of your budget.
At monday.com, we offer a free plan for individuals with unlimited boards and basic features.
Even if you want all the features covered in this post, the appropriate paid plan — Pro — only costs $16 per seat per month.
This plan also comes with unlimited users for guests and clients, so you don't have to pay more every time you onboard a new customer.
Even for freelancers working with a small team, that's a small price to pay for a CRM, time tracking, project management, and automation platform all rolled up into one.
A custom platform with unique templates and workflows
With monday.com, you're not stuck doing things our way. You can set up custom templates and boards that match your existing workflows.
For example, if you use a system like Getting Things Done, you can just set up the digital version of that on our platform.
It's easy to edit columns, views, and automations, and save custom templates to use again in the future.
Automation of menial tasks like client notifications
Using monday.com's automation builder, you can easily automate menial tasks like notifying clients when a certain milestone is reached.
You can also set up reminders for when they take too long to review a draft or wireframe. And that's only the beginning. Once you get a feel for it, you can use automations to free up a lot of your time.
Management of customer relationships to get repeat and long-term clients
We already showed you what a typical CRM board looks like on our platform. You can take our existing templates and customize them to highlight all crucial information about your clients.
By highlighting not just deal size but also recent interactions and priorities, you can make sure your relationships stay positive and that you get repeat, long-term, and referred clients.
Project management software keeps you productive
Just randomly choosing any project management solution isn't a great idea for freelancers. You need something that you can adapt to your needs that's easy to learn and use, not a static enterprise platform.
What makes monday.com different from the competition is that it's a full Work OS — so you can easily create a platform that works for you with custom templates, automations, and more.
You can, for example, use our customer requests template to manage all incoming queries from your clients.
The post Project management software for freelancers: what to look for appeared first on monday.com Blog.