---
Positive Signs for Indian IT companies as they kick-off their expansion strategy in the #newnormal
Blog: NASSCOM Official Blog
Positive Signs for Indian IT companies as they kick-off expansion in the #newnormal
Attractive valuations forming the basis for inorganic expansion
With company valuations touching all-time lows across all sectors, the time is ripe for acquisitions for large companies who have the cash reserves to support inorganic growth. And technology sector leads the race with high level of cash reserves.
In my previous blog "Mergers and Acquisitions – A key growth strategy for technology companies during the Covid times" it was highlighted that the top global technology companies are sitting on a cash reserve of over $470 billion, and utilizing the current low valuations to make acquisitions across a broad spectrum.
While, the top Indian companies which are also sitting with large cash reserves of over $13 billion, were planning to make good use of these piling cash reserves to make acquisitions.
Indian IT companies kick-start their acquisition strategy
This month Indian IT companies started there acquisition spree with Wipro and LTTS announcing acquisitions in Brazil and the US, respectively. Both the acquisitions mark global expansion and access to local talent for Indian IT companies, with LTTS acquisition giving access to specialized telecom skill set, which will aide in future 5G rollouts.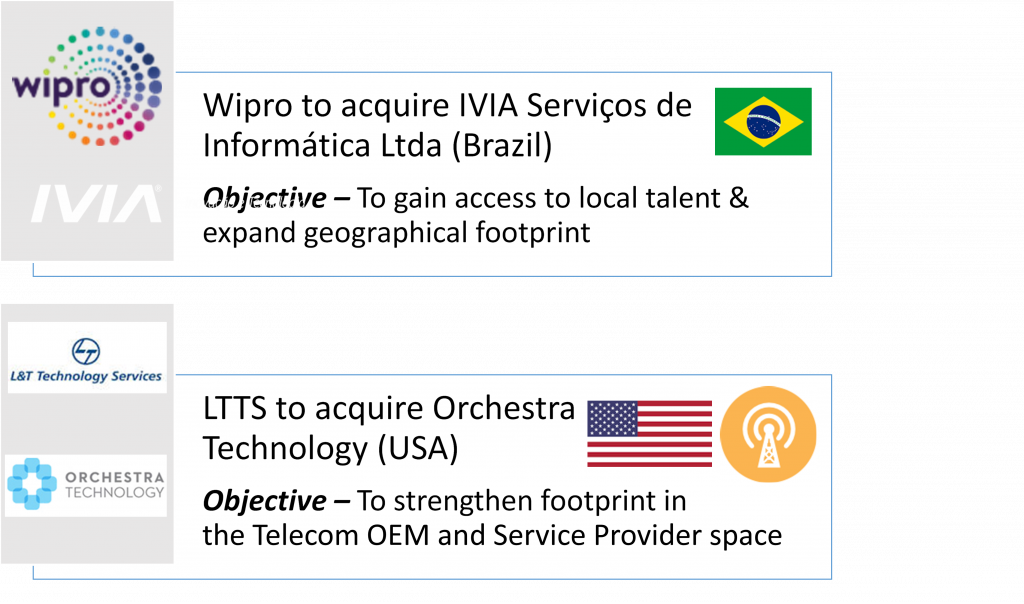 Source: Company Websites and NASSCOM Analysis
Organic growth also supporting global expansion and innovation
In addition to acquisitions, Indian IT companies have also opened-up new delivery and innovation centers as part of their expansion strategy to newer geographies. During the month HCL and KPIT announced expansion into newer geographies.
HCL announced opening up of a delivery center in Colombo, Sri Lanka in partnership with the Board of Investment (BOI) of Sri Lanka

The center will provide services to global clients in the areas of Applications & System Integration Services and Infrastructure Services.

HCL plans to create over 1,500 new local employment opportunities for freshers and experienced professionals within the first 18 months of kick-starting its operations.
KPIT Technologies opened its largest global tech center in Munich, Germany

The center will house electrification, autonomous driving, AUTOSAR & vehicle diagnostics, and other areas, including the digital cockpit.

The center is expected to have over 700 employees from more than 25 nationalities, and serve as a global competence center to meet the complex automotive software needs amid significant technology shifts.
Overall, these expansion strategies mark positive signs for Indian IT companies which have recently announced their 1QFY21 results highlighting that the impact of the pandemic has bottomed out; with majority companies expecting a sequential growth from 2QFY21, amidst a robust deal pipeline.
To know more updates on Indian IT-BPM sector's performance follow the Quarterly Industry Review released by NASSCOM every quarter.
The post Positive Signs for Indian IT companies as they kick-off their expansion strategy in the #newnormal appeared first on NASSCOM Community |The Official Community of Indian IT Industry.