---
Masks to Haldi: How Consumer products brands are innovating together amid a crisis
Blog: NASSCOM Official Blog
Indian retail industry has emerged as one of the most dynamic and fast-paced ones due to the entry of several new players. A conducive environment driven by robust investment in the sector and rapid increase in the number of internet users is the primary reasons for retail sector expansion.
Like all other sectors, COVID-19 made consumer brands feel the pinch. While some retailers added or replaced their product ingredients, brands that quickly innovated their product or services to the new stay-at-home environment left customers intrigued.
The global spread of coronavirus has led to a paradigm shift in consumer behavior – changing the way consumers shop, work, and communicate with other people. It has forced companies to take a hard look at their core business and think out of the box. Some organizations have fared better in meeting these challenges head-on by innovating across products, services, and operations.
As said by one of the most innovative minds, Steve Jobs: "Innovation is the only way to win." And consumer brands took serious consideration during these unprecedented times. In the last few months, consumer brands launched new products or tweaked the old ones in line with the changing consumer needs.
Today, we discuss how brands are leveraging their innovative minds to meet the emerging consumer demand during the pandemic.
Products for the season: Consumers are increasingly concerned about building their immunity in the new normal. To cater to new consumer preferences, packaged food companies have introduced new product lines. These are mostly made from traditional ingredients right out of your grandmother's medicine cabinet. Some classic examples include turmeric flavored milk by Mother Dairy and ayurvedic Tulsi drops by Dabur.
New category formation: Face masks, previously reserved for medical usage, have now become a household necessity. Smart apparel brands like Adidas, Allen Solly and Wildcraft have started developing a new line of stylish and functional face masks to be used in varied formal settings and sports environments. A good example of rising to the occasion in record time.
Expansion into 'capability' adjacencies: Consumer service providers saw a significant drop in their core businesses due to the lockdown. Some, however, are now providing new services that leverage their existing capabilities to meet lockdown induced customer needs.
An example of this is 'Awfis' 'Awfis@Home' program. The lockdown saw limited occupancy in their co-working spaces as the majority were forced to work from home. They saw this as an opportunity to help their customers continue being productive from home, in the comfort of their 'Awfis', by providing remote work infrastructure.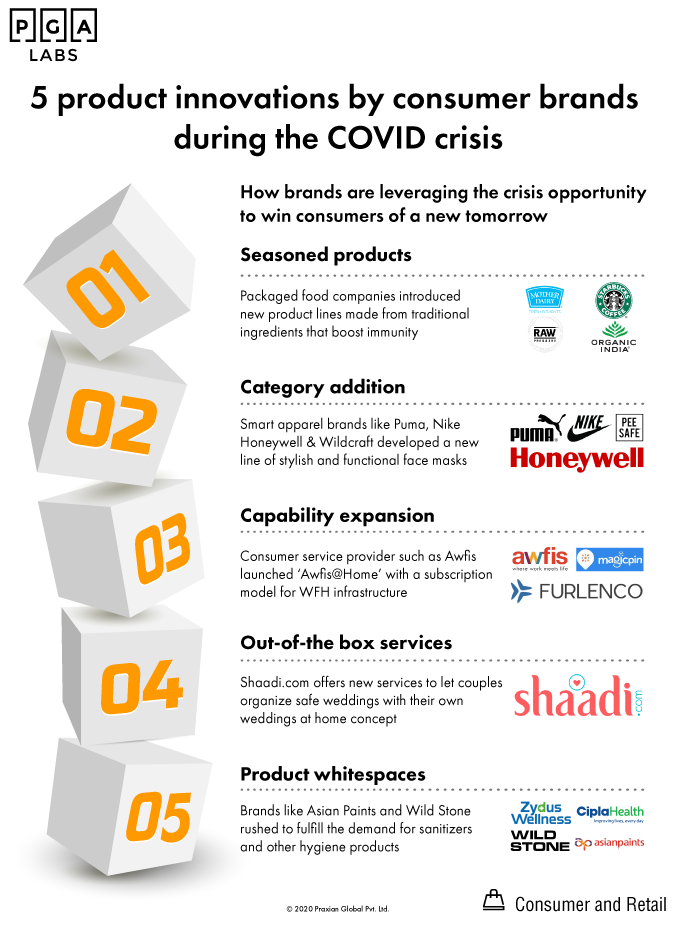 New service formats: Consumers are skeptical about doing things the 'old' way. Thus, brands are innovating new service models allowing customers to enjoy the service in a renewed manner more akin to the changing environment we now live in.
Many couples have been postponing their weddings due to the pandemic. But Shaadi.com knows 'Love' can overcome all challenges, including a pandemic. They have come up with their own WFH – Weddings From Home. This allows couples to organize a safe wedding – from their homes. These weddings retain the fun elements of a normal wedding including vendor selection and sending out wedding invites.
Product whitespace: Digital media players have seen exponential growth in userbase with consumers adopting digital entertainment in the absence of offline options. However, some players like Dailyhunt (Josh) were not satisfied with just that. When TikTok was banned, many players developed their short-form video content platforms in just a couple of weeks to fill the gap. Josh has 28M+ downloads in the last 45 days.
This was true in other industries as well, where organizations like Asian Paints and Wild Stone quickly modified their manufacturing to launch hand sanitizers and other hygiene products.
These are some examples of the many product innovations being done globally in response to the changing customer needs due to the pandemic as we all learn to live in the new normal.
Being innovative and creative is vital for consumer brands and discover opportunities in this year of fresh challenges. With so much changing and many unknowns, it is time for more such innovations to prevail.
While in-store buying may stay muted for some time, most COVID-19 led innovations are here to stay as we move into unknown territories. Globally there has been a peak in revenues for digital commerce, due to COVID-19 and brand leveraging this opportunity across verticals are slated to be the winners of the future.
Authored by:
Madhur Singhal, Leader, Consumer and Retail Practice, Praxis Global Alliance
The post Masks to Haldi: How Consumer products brands are innovating together amid a crisis appeared first on NASSCOM Community |The Official Community of Indian IT Industry.