---
MarTech the driving force behind marketing for the new normal
Blog: NASSCOM Official Blog
Everybody is saying 2020 is the year of change – but that to me seems an understatement considering the seismic shift it had made in every part of a customer life, it's not a change it's a big shift which is not coming back to the way it was.
From a customer perspective, this shift is led by the adoption of digital whether it's by choice or by force. What we saw during the year is a significant rise in digital commerce, social commerce and video on demand – which is estimated to maintain this growth trend in the coming years as well.
Rise in Digital Commerce (in trillions)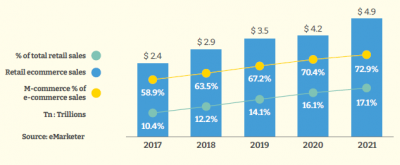 Source: NASSCOM MarTech Report 2021
What this has led to is an increase in use of technology in Marketing with the software spending estimated to increase in 2020 to nearly $180 billion from ~$150 billion in 2019, while most other segments remained under stress witnessing a decline compared to last year.
Source: NASSCOM MarTech Report 2021
A 2020 Gartner survey confirmed this trend where majority CMOs highlighted technology took a top spot in spending as part of their marketing budgets with agency spending taking a back seat.
Source: NASSCOM MarTech Report 2021
Thus, MarTech which accounts for 80% of the software spending is getting an increased wallet share across MarTech budgets with 52% of the enterprises in our survey planning to increase their MarTech spending in 2021.
What we also saw as a key trend from a MarTech implementation perspective is the shift from agency led model to a provider led model with 80% of the end user enterprises in our survey engaging directly with the MarTech Providers for MarTech platform implementations.
Source: NASSCOM MarTech Report 2021
What this means for MarTech vendors is increased responsibility and higher level of engagement with the end user enterprises, which needs them to reimagine their go-to-market strategies. With this year's MarTech report we look at more such MarTech trends for the new normal and how enterprises and tech vendors have to reimagine their strategies. Read more about the same in our recently released report "MarTech – The Digital Customer Experience Imperative From Personalized Products to Personalized Experiences".
The post MarTech the driving force behind marketing for the new normal appeared first on NASSCOM Community |The Official Community of Indian IT Industry.