---
#LeaderTalk : In conversation with Dr. Abhay Kimmatkar, Managing Director, Ceinsys on latest in the Indian ER&D sector
Blog: NASSCOM Official Blog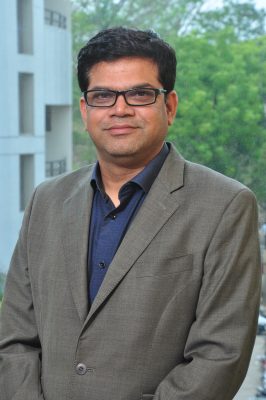 At Ceinsys, the company proactively implemented WFH model and it was observed that with the right infrastructure and adopting dynamic technologies, WFH complements the needs for a sustainable business operations. As a result, the Company was able to carry out more than 90% of the business operations in a seamless manner using the WFH model
Dr Abhay Kimmatkar, MD, Ceinsys
In an exclusive interview with Community by NASSCOM Insights, Dr Kimmatkar delves deep to share his insights about the ER&D sector, developments that are already underway, and how the future is going to look like. PM Modi has alteady sounded the clarion call for self-reliance and ER&D has a pivotal role to play in Atmanirbhar Bharat.
1. Please share your learnings in the last three months specifically from your industry's standpoint. What kind of new geospatial & ER&D applications were called into play?
The unprecedented Covid-19 pandemic situation has impaired the entire world economy and thrown myriad challenges to businesses. All businesses had to rethink their strategies both in terms of employee safety as well as business continuity.
The countrywide lockdown imposed by government introduced a new WFH (Work from Home) culture in the country.
At Ceinsys, the company proactively implemented WFH model and It was observed that with the right infrastructure and adopting dynamic technologies, WFH complements the needs for a sustainable business operations. As a result, the Company was able to carry out more than 90% of the business operations in a seamless manner using the WFH model.
From a geospatial perspective, applications pertaining to COVID situation analysis, district-wise analysis on a day-to-day basis, tracking international and outstation visitors; tracking the spread; hospital applications like identification of hospitals within a certain distance, availability of beds, ICU facility, oxygen, ventilators, PPE inventory; locating test centres; locating food distribution facilities etc. are some of the key applications that were called into play. Ceinsys has played a instrumental and key role in drawing out dashboards for AP government during this crisis period.
2. The PM's clarion call for Atmanirbhar Bharat – please share your thoughts on Indian manufacturing and where we stand today. Of course, manufacturing can't be broad-brushed so you may want to touch upon one/two key areas.
While the industry has widely appreciated Hon'ble Prime Ministers clarian call for Atmanirbhar Bharat, more push is required from the government both in terms of implementing flexible policy initiatives as well as conducive business environment, within the country to make it a manufacturing hub.
The key areas where the country could benefit would be:
Defence – Since the government spending on Defence is increasing manifold year after year, indeginous manufacturing would lead to substantial savings for the country as well control the brain drain which is being experienced since the past few decades.
Mobile & Telecom – While many OEMs have setup their manufacturing base in the country, the actual activity done at these plants is pure assembling. By introducing core manufacturing of parts, the country could limits its dependency on other countries and become self reliant.
3. Where are we exactly on the Smart Cities initiative and you want to share some of the work you have done on this. And, your thoughts about the future, please.
At this point of time for some cities we are well equipped with Smart City Operations Centre with Smart Elements like City Wi-Fi, Emergency Call Boxes, PA System, Environment Sensors, Variable Message Display, Smart Parking, ATMS, Smart Lighting, e-challan, Smart Water Meter, ITMS, and integration with e-Governance system, city surveillance. But the kind of situation right now we are facing due to Covid-19 Pandemic, there is a need to have the integration of Smart city operation center with the Hospital Management and the Health department to give the holistic view of the city in terms of readiness to face pandemic situations and accordingly help to take necessary action. As a matter of fact, a sophisticated Geospatial Disaster Management system is a critical requirement for a Smart City.
4. What kind of advice do you have for prospective talent who want to build a career in ER&D – specific skills, attributes that are must-haves?
With the amount of research and new development being done in the area of Artificial Intelligence with specific work areas being addressed through machine learning and deep learning, this is poised to be a highly disruptive as well as future technologies for various sectors. These skills if properly imbibed will be very much in demand for prospective talent to build their career.
5. Would you please like to take us through a project life cycle with respect to one of the very large projects? And also laying emphasis on collaboration.
Every large project has a similar lifecycle of planning, designing, financing, construction , Operation and maintenance. As every large project has multiplae stake holders like owner operator, Consultant, Design consultant, contractors etc and The poor coordination and communication between the specialists can result in waste, excessive cost, and delays. It is chiefly the requirement of the owner to assure that such flaws do not happen between them. Project Collaboration is at the center of your execution and contracting strategy, bringing together fundamental activities aimed at protecting project schedule and budget without compromising data quality and integrity. Your projects will benefit from an environment which integrates multi-discipline design and contractual deliverables with modeling information and document management supporting the exchange and interoperability of all content during the project lifecycle.
6. Specific policy recommendations from an ER&D standpoint?
1. Offer Tax Incentives for ER&D
Government tax subsidies and grants are the most effective way to increase innovation as well as productivity. Studies show that reducing the price of R&D by 10% increases investment in innovation by 10% in the long run.
2. Promote Free Trade
opening trade can spark innovation by increasing competition, allowing new ideas to spread faster and dividing the cost of innovation over a bigger market.
The post #LeaderTalk : In conversation with Dr. Abhay Kimmatkar, Managing Director, Ceinsys on latest in the Indian ER&D sector appeared first on NASSCOM Community |The Official Community of Indian IT Industry.