---
Is Work-from-home (WFH) the future of work?
Blog: NASSCOM Official Blog
In my previous blog in April, "Is Work-from-home (WFH) the future working model for technology companies?" I had highlighted that Indian technology companies have been fast in reacting to the pandemic by making a shift towards working from home in line with their global counterparts.
Indian Technology companies maintain 90% or above level of employees WFH
In their 1QFY21 results majority IT companies highlighted that over 90% of their employees continue to WFH during the quarter.
| | |
| --- | --- |
| Company | Share of employees working from home as of 1QFY21 |
| Wipro | ~97% |
| Infosys | ~99% |
| HCL | ~96% |
| WNS | ~92% |
| Mphasis | ~90% |
| Tech Mahindra | ~95% |
Sources: Company Reports
Also, this situation is expected to remain the same in the coming months, rather it is bound to change the way organizations will be work over the longer-term.
Also, though the government has relaxed guidelines for return to office, most companies are not in a hurry to get employees back to office.
During the 1QFY21 results conference call, Milind Lakkad, EVP and Global Head, Human Resources, TCS, said, "We are in no hurry to get our employees to office. We are very conservative in bringing people to work. Our strategy will vary depending on the COVID-19 situation in each country and each city."
In a recent round table organized by NASSCOM, it was concluded that the industry is expected to bring back only around 15% of their staff to offices in the near-term, which will include employees who are needed for essential roles, and others who have infrastructure-related hurdles in working remotely.
Also, companies are analyzing data to related to employee metrics and client demand to decide who comes in and who continues to work from home.

"We are going to be very focused on data. It will tell us very clearly what the movement of people is," Jagdish Mitra, chief strategy officer and head of growth at Tech Mahindra

For the same reason IT companies had requested the government to extend the WFH relaxations, which was agreed by the government with the Department of Telecommunications (DoT) extending the relaxation in terms and conditions to facilitate work from home till December 31, 2020 (earlier it was allowed till July 31, 2020).
Globally, companies are taking a step ahead
Yesterday, Google took a big decision of allowing most of its 200,000 employees and contractors should work from home through next June, this marks six month extension of Google's previous plan to keep most of its offices closed through December 2020.
Earlier this month, Germany-based Siemens (the industrial manufacturing company) announced that its employees may work from wherever they want for two or three days a week. Another strong endorsement of the work-from-home and work-remotely-anywhere movement in the newnormal.
Productivity Increase a key driver?
According to a Bain survey of over 900 company employees, during April 28, 2020 to May 20, 2020 – more than 50% of the respondents said their productivity either increased was the same during WFH with no commute time and increased ability to focus as the top reasons for the same.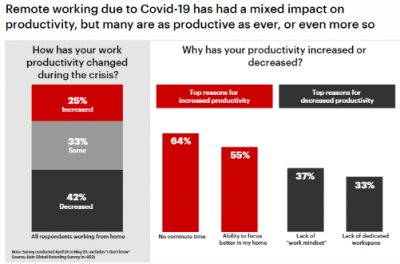 Source: Bain and Co.
With the post covid era highlighting a situation where such pandemic events can disrupt businesses, work from home seems to be a critical part of business continuity plan. Consequently, most of the service providers with offshore delivery centers are already asking their clients for work-from-home (WFH) waivers in their contracts.
Overall, a lot has changed in the post Covid era and it seems working from home is one big change which is there to stay virus no virus.
The post Is Work-from-home (WFH) the future of work? appeared first on NASSCOM Community |The Official Community of Indian IT Industry.