---
Impact of COVID-19 on Supply Chain: Refocus on Adaption and Reinvention
Blog: NASSCOM Official Blog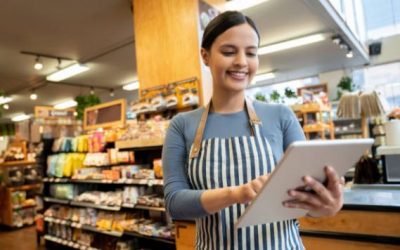 It's been more than six months that the world is at a standstill and grappling due to COVID-19 pandemic. It has threatened the livelihood of not only human lives but also businesses. Lockdown, social distancing and work from home have become the new normal.
Owing to these norms, many people are purchasing online due to which e-commerce business is undergoing a drastic change. Few online businesses like grocery and medicines are flooded with orders whereas some online businesses like luxury goods are showing negative numbers in sales. During the lockdown, retailers reported a sudden surge in panic buying. Shoppers from Boomers to GenZ (categorized based on online shopping behaviour), are now buying online to avoid long queues, human contact and to ensure safety.
People are now purchasing everyday necessities like vegetables, medicine, fitness products, office furniture etc. which they might not have purchased online otherwise. While this new purchasing behaviour is giving a boost to the e-commerce industry, this has also increased pressure on the online stores to accommodate such inflated demand and order fulfilment. Order fulfilment is an integral part of the e-commerce industry and a strong supply chain management (SCM) network is required to fulfil orders efficiently. The recent spike in orders has choked the existing SCM leading to delayed deliveries for most customers.
This blog highlights some pertinent challenges faced by e-commerce especially the SCM; the backbone of this industry. Let's take a look.
Readiness to meet a spike in orders
The existing industry mechanism was not ready to assess the impact of COVID-19 on customer behaviour and predict the rapid hike in orders which in turn increased pressure on current resources including different online platforms and staff.
2. The workforce exodus
Herds of the migrant workforce have moved to their hometown due to the panic and upheaval created by COVID. This mass movement of labour created a serious gap in staff required to fulfil the orders and offer timely customer service
3. Compatibility of existing e-commerce platforms
Many new e-commerce stores were not equipped to accommodate such heavy traffic on the websites. Compatibility of these online platforms from feature perspective also seemed to be deficient, e.g. integration of fewer payment methods like the option to pay cash on delivery wasn't available on many websites which would be convenient for boomers.
4. Stock availability and lockdown
Due to impulse buying and surplus hoarding of products, suppliers are finding it difficult to meet the market demand. The government imposed lockdown in many cities/states/countries impacted the desired supply of goods, raw material and delivery schedules.
The unavailability of the workforce employed in manufacturing units compelled the manufacturers to face a heavy lag to process/produce products as per market demand.
With these challenges, some e-commerce businesses are juggling to meet the demand and satisfy customers at the same time. However, the following measures would help businesses to ease out significant pressure on SCM and help deliver their best.
Contactless delivery
Safety is a prime concern in the current situation and certainly cannot be compromised. Most people are buying online because they think it's safe. E-commerce stores can continue contactless delivery by adopting safety measures like regular temperature checks, the delivery person should wear gloves and mask, cashless payment should be encouraged or incentivised, double-layered packaging of the products, allowing customers to write instructions for delivery and follow the same while delivering.
2. Tapping new territories & customer groups
The online stores can grow by expanding their business to new cities and making home deliveries accessible for all. Customers are now open to exploring new and safe options for buying products/services online. E-commerce businesses can explore novel ways to attract new customer groups like the boomers who have the purchasing power but stayed aloof from buying online. This can be done by rolling out enticing offers and discounts to increase stickiness.
3. Cost-effective shipping
With cost-effective shipping, retailers and customers can both enjoy a win-win situation. It would grow the business by fetching more orders most cost-effectively.
4. Future-ready online platforms
When the business starts to grow, business owners should upgrade the existing platforms by making them future-ready. The current situation demands cloud-based platforms, that collect real-time data and provide valuable recommendations using analytics. The most important platform which would help to achieve flawless SCM is enterprise resource planning (ERP) systems. Adoption of the right ERP system to monitor real-time demand, supply, manufacturing status, logistics and distribution would prove helpful in demand planning. Swiggy, India's largest online food delivery platform cashed on the opportunity of upgrading their existing platform and extending grocery delivery services via Swiggy Genie to its customers.
5. Managing delayed shipment
With increased pressure on SCM, few orders would inevitably be delayed. The best solution to manage such delays is to reassure the customer and keep them informed about various stages of shipment transition. This would avoid bad customer experiences.
6. Connecting with neighbourhood mom-and-pop stores & hyperlocal distribution
Ecommerce stalwarts like Amazon, Flipkart, Zomato etc. can connect with more local stores to reach faster to their customers. This would expand the product change and ensure higher availability for the customer. In return, local stores can increase their customer base by partnering with large online platforms. The hyperlocal distribution platform takes care of the distribution of products by connecting with local stores like mom and pop shops that focus on smaller geological areas ranging from a neighbourhood to a city. This model ensures fastest delivery ranging from a few mins to hours and hence is getting popular amongst youngsters.
7. Redefining business solutions
London based healthy meal delivery company and deli chain Detox Kitchen has partnered with its supplier 2Serve to turn produce that would otherwise have been supplied to now-closed restaurants into food "essentials" boxes for domestic consumers. This has proven to be affordable for customers and profitable for the supply chain.
To conclude, while we hope to soon find a vaccine to fight this pandemic, the current circumstances shouldn't prevent businesses from facing the above-discussed challenges and translating them into strategic opportunities. This is an opportune time to adapt and reinvent the wheel.
Author: Supriya Pachpute, Business Analyst, Isobar World Services.
Also published on Medium.com for Isobar World Services.
The post Impact of COVID-19 on Supply Chain: Refocus on Adaption and Reinvention appeared first on NASSCOM Community |The Official Community of Indian IT Industry.