---
How SaaS Apps Have Broken IT Collaboration 
Blog: Solutions Review - Business Process Management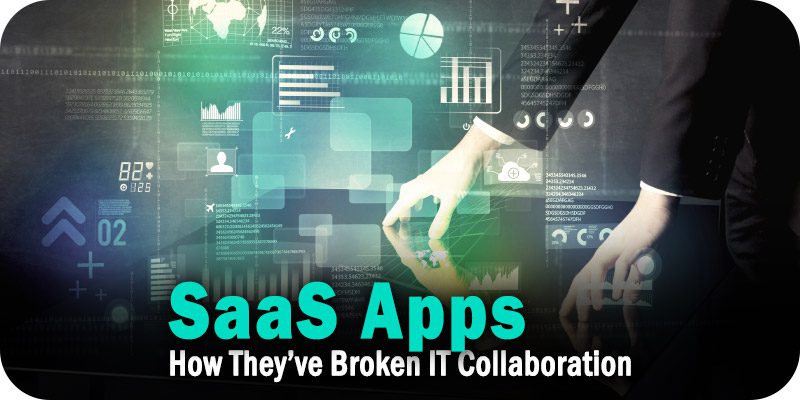 As part of Solutions Review's Premium Content Series—a collection of contributed columns written by industry experts in maturing software categories—Uri Haramati, the co-founder and CEO of Torii, explains how (and why) SaaS apps can inhibit collaboration with IT teams.
Are you actually collaborating? Or has the term "collaboration" turned into an ineffectual buzzword? Does the answer matter? It does, especially considering how too little cross-functional collaboration can lead to faulty decision-making. Without proper teamwork, companies can quickly fall into a cycle of ineffective technology usage that results in wasted time and poor ROI for cloud application investments. In a business world that's heavily reliant on SaaS applications, that's a costly deficiency.  
Many IT teams have fooled themselves into believing collaboration requires a few meetings or a project management tool. The fact is that collaboration is much more than that.  IT must empower and support its colleagues using its technological expertise. This is critically important since remote and hybrid work has scattered teams across the globe. So, with this in mind, what does cross-functional collaboration look like for IT in 2022?  
We aimed to answer that in a recent report on the "State of SaaS at Work," which surveyed IT pros about the current state of collaboration between them and their cross-functional teammates. We quickly found that their actions didn't match their sentiment, or in other words, cognitive dissonance. 
Best Intentions, Less Than Ideal Results
Actions speak louder than words. While overall sentiment for collaboration is high, the actual results are less than favorable. If current standards for IT cross-team collaboration are the occasional Slack message or completed support ticket, it's easy to consider collaboration healthy and productive. Our initial findings aligned with that assumption, as ninety percent of IT respondents rated overall collaboration with other teams as "Good or Excellent." But was that collaboration actually productive?  
Let's consider what's needed. Teams like Finance need insights from IT to optimize SaaS budgeting better. Procurement needs IT to collect data for contract renewals and ongoing spending management. HR teams need support in onboarding and offboarding employees. And Sales teams require the right tech and tools to close the deal. So, what are they getting?  
As we dug deeper into how often IT collaborated with other teams on critical items, we found that it was not occurring nearly enough. In fact, only twenty percent of respondents claimed to collaborate "often" or "continuously" with specific departments. There's that cognitive dissonance I mentioned earlier.   
It doesn't stop there. The more we asked about specific tasks, the more we found a disconnect. Consider how IT is collaborating with Security and/or Compliance. Only fifty-one percent of respondents stated that they work together to identify Shadow IT. Combine that with only sixty-three percent working with Line of Business leaders to evaluate and reduce redundant applications, creating risk, complexity, and waste
SaaS Has Changed The Way We Work
SaaS applications have hindered how IT works with their colleagues—they're no longer in control, and they're playing a constant game of catch-up.  
Anyone can (and will) utilize cloud applications at will. They'll test, experiment, and acquire any application that can help them accomplish their job better. Why wouldn't they? Most only require a quick sign-up. Unfortunately, IT never gets the memo.  
As employees continue to collect applications (and expense them), IT is often left in the dark. That has created what's commonly called Shadow IT, or applications that are being adopted and utilized outside IT's purview. Shadow IT hurts IT's effectiveness. When ownership is scattered, and information on SaaS application usage and spending is tucked away in data silos—IT's hands are tied. Without visibility, they can't provide actionable insights.  
This distributed adoption of SaaS applications is at odds with effective collaboration. Of the respondents that acknowledged the existence of Shadow IT, sixty-two percent stated that it made collaborating with other teams more difficult. When a cross-functional teammate from Finance or Procurement comes looking for answers, both parties leave feeling frustrated. That tracks with our findings that only four percent of respondents collaborate with Finance/Procurement on the most important tasks (i.e., identifying underutilized apps and finding wasted licenses).
SaaS Management Is A Team Sport
So how can companies ensure that IT can collaborate to the full extent of their capabilities? Distributed SaaS Management. SaaS Management is a team sport. But many people don't realize they're on a team. They work in silos. Without tangible cross-functional collaboration, it's challenging to reach the goal line. It starts with ensuring IT has the information needed to call the plays.
Visibility is key. IT needs a strategy to provide all stakeholders with centralized and transparent information on SaaS applications. They need tools to bridge the information gap and enable a centralized view of SaaS. That starts with solutions illuminating Shadow IT and providing data on application usage, cost, and licenses. It's okay for application ownership to be dispersed across the organization (there's nothing anyone can do to stop it) as long as IT has the information they need to add value to all SaaS management players.  
For example, when it's time to tighten the belt (akin to the current financial instability we're seeing), Finance can lean on IT and centralized data about usage and costs to help reduce SaaS spending in the right way—by eliminating redundant licenses and orphaned apps, and switching users to lower license tiers. This level of data transparency and availability will break down silos and improve how colleagues utilize technology together—despite its distributed adoption.  
Distributed SaaS Management is a strategic shift. It's also the next logical evolution in how IT collaborates with its colleagues to drive the business forward.
---
The post How SaaS Apps Have Broken IT Collaboration  appeared first on Best BPM Tools, Vendors, Software and BPMS.