---
How Point of Sale solution is helping retailers amid COVID-19
Blog: NASSCOM Official Blog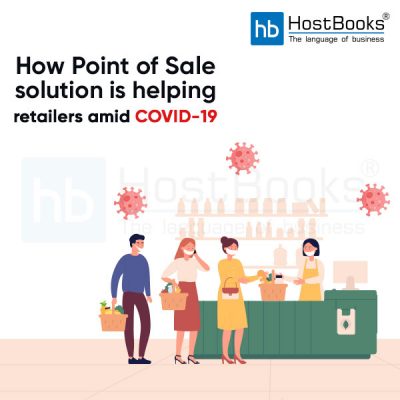 COVID-19 outbreak has affected all the companies including hard-working owners, distributors, producers, delivery drivers, workers, and all sorts of retailers. Government and social reactions are evolving at a rapid rate, and we agree, there is nothing important than supporting them.
But due to this situation, small businesses and retailers are failing with the current operating system and need a robust solution like POS. It helps to ring up transactions, measure inventory, and accept payments. A best POS system can track data from transactions, maintain inventory, produce reports, and store contact data from customers. Here's how POS solutions are making the lives of retailers easier.
A POS system at your retail store rings out orders, monitors inventory, and helps your business grow.
Managing inventories
A powerful POS system comes with built-in stock control features. Point of sale solutions come with inventory capacity that can synchronize your stock levels as you sell. This makes it easier for you to track product moves, so you can make better buying and selling decisions.
Real-time data & forecasting
POS system allows you to gain insight into how well your store is doing. Knowing how much money you made last week is great but you need to know more to build long-term success. How much have you spent the past month? Why was this particularly more effective last week than the previous one? Which things are moving fast? Which isn't selling?
Answering data-driven questions such as these is a full-time job and very few retail owners have a background in analyzing business data. A POS system monitors your company, and it comes with performance reports that allow you to see the big picture in a simple, digestible form.
Speeding up payments
Using a POS system to create a more productive checkout process would let customers know that they can get through the lines quickly. That can mean the difference between your customer choice and the competition.
Powerful Reports
The data that you have at your fingertips is part of running a successful retail business. Getting the right insights — especially when it comes to pricing, product movement, and consumer behavior — can lead to better decisions that will have a positive effect on your end result.
That's why choosing a POS system is crucial, which can produce the reports you need. Look for a system that can have the reports running like inventory on hand, sales records, stock summaries, and customer behavior.
Cost-saving benefits
A small investment in a new POS system could go a long way to overburdening your productivity. Every year, no matter how much revenue the company gets, 10 percent savings will have a huge effect on the end result. Can you afford not to switch to a new POS site with so much money involved?
Easy Adoption
Every firm is unique and has its particular needs. The POS systems can easily be tailored to suit individual business needs. A method of POS can vary significantly from a food outlet to an apparel store. With this in mind, POS systems can be calibrated to small business-specific needs so that special reports can be produced for best-selling goods.
Advanced POS systems will save you time, help you better engage shoppers, and enable you to make smarter choices. All that leads to higher efficiency levels, happier customers, and overall a healthier business.
Customer Management
Many full POS systems do have the capabilities of customer management that allow you to store shopper's information and create customer profiles. Many sites also provide loyalty tools so the top patrons can be compensated.
Both of these features contribute to higher rates of commitment, repeat transactions, and loyalty — both invaluable to retailers!
These amazing features will keep you in the know and will help you a lot in operating your store operations.
The post How Point of Sale solution is helping retailers amid COVID-19 appeared first on NASSCOM Community |The Official Community of Indian IT Industry.