---
How Low-Code Can Help Address Shrinking IT Teams
Blog: Solutions Review - Business Process Management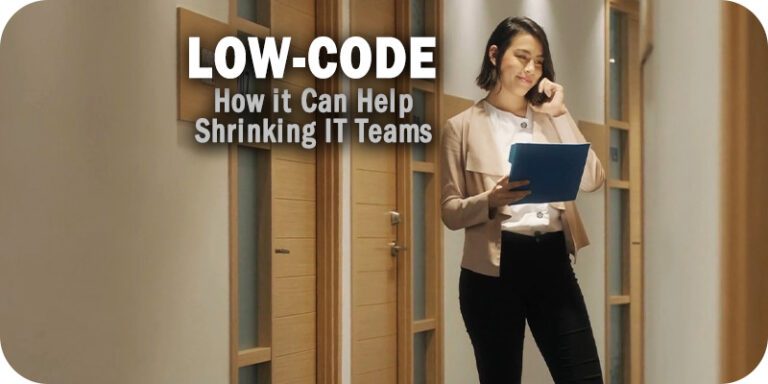 As part of Solutions Review's Contributed Content Series—a collection of articles written by industry thought leaders in maturing software categories—Sara Zenner, the Senior Product Marketing Manager at Hyland, explains how low-code technologies can help companies address shrinking IT teams. 
If your company is like most enterprise organizations these days, you may be concerned about the size of your IT team and the challenges of filling any gaps that may arise. If you find yourself nodding in agreement, you're certainly not alone. According to a recent report by Pluralsight, 47 percent of IT workers have had to take on responsibilities outside their regular roles, and 65 percent of tech managers surveyed reported increased burdens on their teams. 
A solution to these problems may lie in the promise of low-code app development to alleviate the burden on shrinking IT teams. As roles expand and your developers take on additional responsibilities, leveraging low-code and expanding development capabilities outside an IT team can solve these issues. 
What is Low-Code?
Low-code app development offers a streamlined approach to building applications and processes, utilizing visual interfaces and logic instead of manual coding. By leveraging a  low-code platform's visual development environment, individuals from various business functions can effortlessly configure and customize mission-critical applications. Through intuitive point-and-click interactions, line-of-business (LOB) users can actively participate in building and fine-tuning applications, providing an alternative to traditional software development that relies heavily on developers. 
Low-code presents numerous benefits for organizations seeking to optimize their developer commitments and assignments. These features are crucial in reducing the strain on development teams and enabling the involvement of other users in the process, thereby creating a more inclusive and collaborative development environment."
Rapid application development
Speed matters, and line-of-business users may not have the depth of coding experience required to build large, complex apps. With low-code, those non-developers can, for example, drag-and-drop to configure apps at the speed their end-users expect while also meeting regulatory demands. Those easy-to-use functionalities minimize costly, time-consuming, and difficult-to-maintain coding and provide an easy mechanism to modify or improve the app. 
Security
If there's one topic that's hotter in the industry right now than developer shortages, it's this one—and the good news with low-code app-building platforms is that they're designed with security in mind, providing robust measures right from the start. Those security features include strict password policies with configurable requirements; granular rights management; keyword capabilities that can restrict access based on metadata; and more. 
Workflow automation
By implementing advanced process and workflow automation within low-code app building, you can better anticipate the needs of users and customers and eliminate some of the mundane, repetitive tasks that can often consume your teams' time, allowing them to redirect their focus to higher-value tasks. 
Reporting and analytics
Why strive for efficiency and optimized developer use if you can't measure and quantify the resulting benefits? Low-code platforms provide reporting and analytics solutions that provide transparency and data you need to act on processes, record completeness, and overall system health.  
Why Empower LOB and Other Users with Low-Code Apps?
Aside from the technical and tactical advantages listed above, the impact on an organization's efficiency and workforce can be equally significant, if not more so, when implemented effectively. As the talent shortfall statistic above illustrates, developer talent is hard to come by, limiting how organizations can leverage their developers, which often means those individuals will be asked to work on more strategic projects.  
Low-code applications make that shift manageable and yield many benefits for an organization's development team. LOB and citizen developers most often build targeted, department-directed apps that solve on-the-ground pain points precisely—and they do so in an agile fashion. The need for digital agility has never been higher, and these technologies can unlock additional flexibility from existing or expanding tech stacks, bringing tremendous value to organizations looking to maintain their competitive advantage while at the same time providing an optimal customer or user experience. 
Furthermore, these low-code apps offer extensive opportunities for customization and extensibility, allowing LOB users to quickly expand, modify and enhance the app to meet complex process requirements. These customization capabilities also enable collaboration between developers and business users, ultimately resulting in the rapid deployment of products that cater to user needs. 
As LOB and non-IT developers leverage low-code environments to build applications—professional developers and IT staff are freed up to prioritize complex, custom coding projects that further business goals and customer relationships. In my perspective, the increasing adoption of low-code options and solutions does not negatively impact the career aspirations of professional developers. They continue to be highly skilled experts, particularly in environments where LOB app users cannot meet the demands of pro-code needs. 
What are the Risks?
One key area to evaluate with low- and no-code development is any integration needs you have—and if the low-code platform you implement does not meet your integration needs, it may not provide the efficiency you are looking for. 
Your low-code platform needs the functionality to access and use all the latest data and content from your entire content universe, meaning a content-based configuration. Your best-fit low-code strategy will integrate your content repositories with all your critical applications and line-of-business systems, complementing those systems and equipping you to maximize your investments. 
With low-code applications, you gain access to the necessary capabilities, security, and reporting you need to expand the roles that can play a part in your organization's development environment. How do you plan to harness low-code to drive innovation within your organization?
---
The post How Low-Code Can Help Address Shrinking IT Teams appeared first on Best BPM Tools, Vendors, Software and BPMS.