---
Fintech India: Top Trends to dominate through 2021
Blog: NASSCOM Official Blog
The year 2020 was not the greatest for many industries in India due to COVID-19. But interestingly, the fintech industry reported rapid growth during the pandemic in the year 2020.
In the absence of physical contacts, consumers relied on virtual financial services to access and disburse funds and fintech solutions of varied types saw an unprecedented surge in demand. India's Fintech funding grew 2X Y-o-Y to 1.7 $ billion in the first half of 2020.
The year 2021 looks promising as well looking at the rising consumer and business interest in contactless and digital financial services. Key fintech trends that are projected to influence the Indian financial services market in the year 2021 include but are not limited to the following:
Fintech India Trends 2021: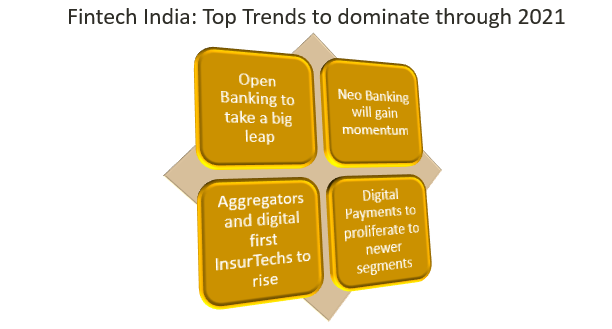 Open Banking to Take a big leap in India – Pioneered by BFSI players like Yes Bank, Kotak bank, DCB bank, etc., the Open Banking ecosystem has now grown to include Non-banking financial companies. 2020 has already seen open Banking becoming a part of the Indian financial services and the fintech segment with several fintech partnerships happening in this area.
During COVID-19, several banks have adopted open banking via Open APIs and have started offering a major chunk of their banking services outside their firewalls. This trend is expected to magnify in India through 2021 as more and more customers demand digital financial services.
However, security will still be a concern with open banking and fintech players need to bring in tighter security in open banking platforms for the ecosystem to gain real momentum in 2021.
Neo Banking will gain momentum – For years, digital-only banking or neo-banking had not been able to kick off big time in India with the RBI restrictions that do not recognize the digital-only banking institutions. However, with the rising demand for digital banking, many internet-first banks in India have started to gain momentum.
Neo-banking in India is expected to see a huge spur in 2021, attracting huge investments from global players as well. Further, though the RBI has not changed its stance on neo banking in India as yet, it has started allowing fintechs to test their innovations in a sandbox, which portends well for the broader fintech industry and neo bank in India. This
Aggregators and digital-first InsurTechs to rise – With the entire gamut of insurance changing in the year 2020 from traditional stand-alone insurance offerings to digital, bite-sized offerings for specific purposes like covid-care, etc., digital-first InsurTechs are set to see a stupendous rise in the year 2021 in India.
Further, digital-first aggregator platforms around the entire insurance value chain that not just give an option to compare insurance policies and chose the best one, but also allow digital KYC, after-sales services, and claims, will take the front seat in 2021. Incumbent insurance players will look to collaborate with modern Insurtech players and many bigtechs will look to jump into the bandwagon to get a share of the rising pie.
Autonomous Finance will start picking up – Autonomous finance is one of the top fintech innovations that will start picking up in India in the year 2021. Juggling work with utility bill payments, insurance, cable subscription, etc., can be devastating, especially in the new-found contactless world.
Fintechs offering autonomous finance will start picking the limelight that takes the burden off consumers' minds and automates their financial decision-making process with AI and Machine Learning. As more people try to create more time for themselves in the work from home, contactless world, they will be delegating such repeated tasks to fintech solutions in India.
Digital Payments to proliferate to newer segments – One of the most important trends of fintech India in 2021 is indeed the huge leap in digital payments demand that is expected to continue in 2021 due to the pandemic fear. Payment fintech players will be seen experimenting with innovative digital payment solutions accentuated by the increasing regulatory support as well in the form of the payment sandboxes created by RBI.
Further, as more solutions in the offline model spur up, the Indian fintech market will see digital payments proliferating to newer segments that were cash-obsessed till now due to reasons like lack of availability of a digital payment facility, poor internet connectivity, lack of awareness, etc.
Amidst the entire gamut of increasing user growth and traction, the fintech sector in India is indeed poised for more innovation in 2021. India sees some innovative fintech players as the most promising for the year 2021. Some of the most potent ones (but not all) include:
Cashfree – Cashfree offers payment processing solutions to businesses. It provides payment gateways, UPI-based money transfers solutions, etc. Founded in 2015, the company has recently launched Global Payouts for instant cross-border payments and plans to process transactions worth $30 Bn by the end of the calendar year 2021.
CoinDCX – Mumbai-based CoinDCX is a cryptocurrency exchange platform that allows users to buy, sell, and trade digital currencies through an encrypted network. The company has recently launched its app CoinDCX Go which aims to take crypto trading to a larger segment and is also set to launch liquid ETH-backed tokens for users.
Money Tap – Money tap is an app-based personal credit line for consumers. The company has built an in-house 'AI-based decision engine' that helps it assess credit applications within minutes and has partnered with multiple players to enable easy repayment options for customers on platforms like PhonePe.
Niyo – Niyo Solutions is an internet first digital bank. It features NiYO Payroll Card – a zero balance account with facilities like account opening, salary advance, and free accidental death insurance. The fintech has recently made a lot of business acquisitions and has also partnered with many stalwart banks like the ICICI bank to issue prepaid cards. The company will also be expanding its Niyo Money platform in 2021.
Yap – Yap is an API Infrastructure company enabling businesses to roll out their payment products. YAP is already working with 15 banks, which includes Yes Bank, DCB Bank, Equitas SFB, SBM Bank, among others in rolling out their services over a bundle of APIs.
Looking forward:
In a nutshell, while 2020 was a pandemic hit year with many new surprises coming up for the fintech players and incumbent financial players of India, 2021 will be the year for most fintech players to build upon the learnings from the past year and monetize the digital transformation opportunities that the pandemic has thrown upon across the industry.
While the year 2021 will continue to see a rise in fintech investments in India, the industry will see a lot of transformation in the form of mergers and acquisitions among the incumbent financial players and the fintech players, several strategic partnerships to bring about digital transformation, the emergence of new fintech use cases, and the rise of innovative fintech offerings across the financial services value chain in general.
References:
The Pay payers
Economic times
Financial express
Tax guru
com
Traxcn
Secondary Research
NASSCOM Insights
The post Fintech India: Top Trends to dominate through 2021 appeared first on NASSCOM Community |The Official Community of Indian IT Industry.