---
Develop. Demonstrate. Deploy: Leveraging IoT the right way
Blog: NASSCOM Official Blog
As the world becomes increasingly connected, the expectations from IoT devices is only going to grow. The acceptance and popularity of IoT devices will largely depend upon how reliable, flawless, responsive and sustainable can they be in the long term. Most of us agree that IoT is in its nascent stage and the space is currently immature in terms of technology as well as development expertise. Several connected products are unable to reach their full potential due to frequent performance issues and consumer pain-points that remain unaddressed.
The good thing is, most of these issues can be easily addressed and solved by simply having the right processes for verification and validation in place. So, if your business already has an IoT strategy in place, what should be your way forward and how will you ensure successful implementation of the strategy?
Develop
Build the IoT Environment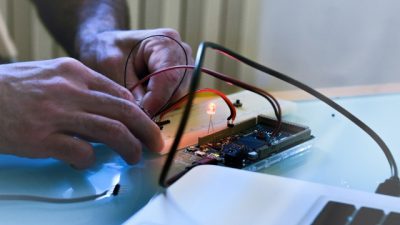 The first obvious step is to set up a technology stack for your connected products. This means having the right hardware as well as software including sensors, devices, advanced communication networks, cloud infrastructure, edge computers and IoT enabling platforms.
You may need to either find a way to morph your existing physical assets to work with sensors, or develop entirely new products which are better suited for the IoT ecosystem. Product development could be iterative and you will be developing several prototypes before you can have something that is fully functional with the features you need.
Once all your physical assets are connected and communication protocols are set up, you will get the first version of a fully connected device that can relay crucial information.
Demonstrate
Verify and validate the products of tomorrow
The testing phase is the most crucial phase for successful IoT implementation. It is critical to take a holistic approach instead of a siloed one for testing. The aim is to eliminate any integration flaws so that the end-user gets a seamless experience during moments of truth. Without proper verification and validation, the investment in setting up connected devices could turn out to be a sunk cost.
IoT is built on three major pillars: Things, Communication Infrastructure and Computing Infrastructure – validation cannot be done until all three components are tested in an integrated way.
All-encompassing test labs like the RBEI Verification and Validation (V&V) center use emulators and simulators for end-to-end testing and are key to ensuring error-free performance of IoT devices. At this stage, you need a V&V partner who can test every component including sensors, cloud access, IoT gateway, user interface and connectivity.
Multi-stage validation needs to be done to ensure:
Impeccable User Experience: Test for multi-experience capabilities including voice, touch and motion for the right 'human' experience.
Reliable Performance: Define benchmarks for product performance and ensure any lags and response errors are immediately flagged to the design team so that corrective actions can be taken.
Robust Security and Data Integrity: Check for Security Certifications across the landscape and test exhaustively for vulnerabilities. Address all possible data storage, management and privacy concerns to be able to offer trusted products.
Compatibility and Interoperability: You will need an expert to test your IoT set up for all possible user-devices and different permutations and combinations of operating systems and supported software.
Deploy
Implement, support and create seamless IoT experiences
Organizations often fall into the trap of assuming the work is done, once the new system is up and running. Now is the time to maintain the system and improve it further for consistently brilliant user experience.
Once you launch your IoT project, you will need to gather as much data as possible and domain experts will be needed to interpret this data to help you optimize your product further.
This work will involve:
Frequent updates: Fast roll out of updates including configuration adjustments, software bug fixes, renewed asset connections, security patches, and other desired actions or changes.
Agile Scaling: Ensure your product and application remain relevant as time passes. You will need to have an integrated strategy for simultaneous feature releases across product models.
In Conclusion: The importance of a trusted partner

The future cannot be predicted but future needs and challenges can be anticipated. The aim should be to take organizations closer to the ideal IoT landscape by assisting them in the testing as well as deployment phase. A trusted and capable implementation partner is vital for this. One that can create an integrated verification and validation solution which cuts across hosting infrastructure, apps and devices, and provide 360-degree solutions for the next generation of connected products.

Author:
M S H Shankar Datta
Head of Business – Cloud, IoT V&V, Automation
Robert Bosch Engineering and Business Solutions Pvt. Ltd.

The post Develop. Demonstrate. Deploy: Leveraging IoT the right way appeared first on NASSCOM Community |The Official Community of Indian IT Industry.