---
Decoding "Gig Economy": Emergent Industry Shift Towards A Blended Work Model
Blog: NASSCOM Official Blog
The "Gig Economy" is not a 21st century phenomena.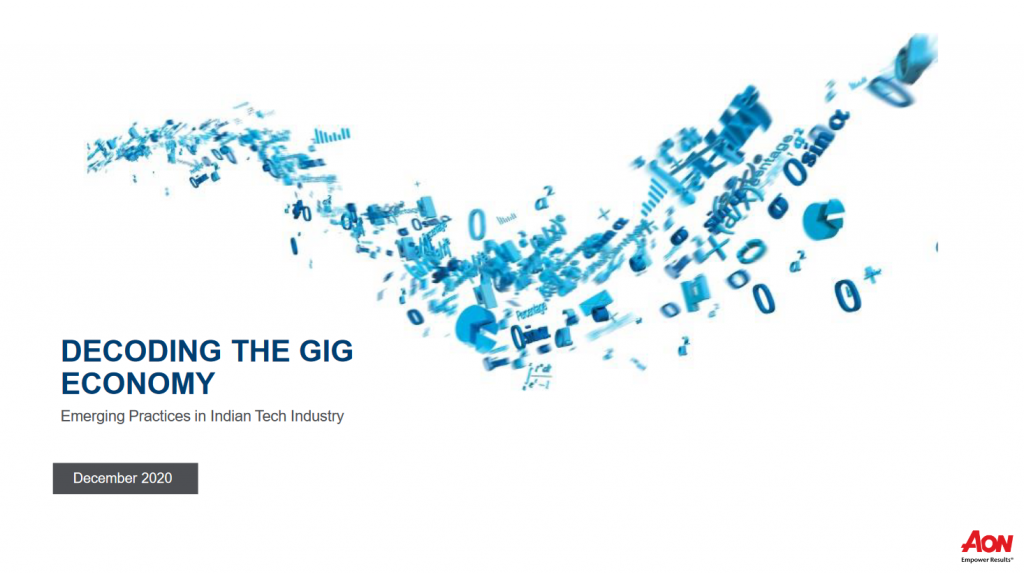 Historically, with every economic downturn, size of the workforce seeking transient employment has increased non-linearly in the short-term, but this workforce has been inelastic, and falls behind once normalcy is restored. COVID-19 has led to work, workforce, workplace, and work culture shifts that will, invariably, last and establish a next normal in the Future of Work. This early research, led by Aon and NASSCOM, provides indications that Gig economy is likely to emerge as a key component of this blended work model.
This study attempts to define "Gig Economy" with a contextual undertone, as the definition can be as dynamic as the trend itself. Today, Gig Economy is a free and global market where companies and contractors (independent workers) set short-term and on-demand professional relationships, or "gigs" that are flexible and skill-based tasks or projects.
This study is a first – in assessing current levels of Gig employment within the Indian industry overall, and specifically, within the Technology sector and its various subsectors. The study is also a first in establishing a score – an indicator to track current and future giggability of various functions and job roles within a company – called the Gig Promoter Score or GPS.
The study also analyses current and emerging practices in hiring, compensation & rewards, and engagement models for Gig workers. The key messages that have emerged from this study are:
Overall India Inc. trends:
Adoption is promising, and rising. 50% of Indian companies (pan-industry) hire Gig workers today. The trend in next 2-5 years is upward looking
Gig headcount relative to total headcount is still low, majorly in single digits (75%+ companies have <10% of their headcount on Gig payroll)
Standardized backend operational roles are most likely to be gigged – Backend Operations, HR Operations, Finance, and Admin & Support roles
Hiring criteria includes a combination of broad business and value chain knowledge, along with relevant experience and education
Most companies prefer a fixed-fee compensation model, although there is a rising use of Time & Expense (T&E) model
Tech industry trends:
Tech industry, and the IT Services subsector, are the biggest Gig employers today
Next 2-5 years will witness BPM subsector rise more prominently in Gig hiring
The industry stands distinct in its preference for longer-term engagement, by providing end-to-end job roles to Gig employees
Most companies shall put backend process management roles for Gig work. The study highlights difference among BPM, IT Services, Software Products, and GCC priorities
Focus is more on strategic engagement models, such as continuous or diverse performance management measures and active referrals for retention within same of different work areas in the firm
This is one of the studies in our focus on Future of Work and blended work models. Do write to research@nasscom.in with your comments on this study and ideas for inclusion in future work streams.
The post Decoding "Gig Economy": Emergent Industry Shift Towards A Blended Work Model appeared first on NASSCOM Community |The Official Community of Indian IT Industry.