---
Call for Inputs: NASSCOM Consultation on the Recommendations of the Draft Report on Non-Personal Data Governance
Blog: NASSCOM Official Blog
The Committee on Non-Personal Data (NPD Committee) chaired by Shri Kris Gopalakrishnan, was constituted on 13 September 2019, with the objective of defining a regulatory framework for the governance of non-personal data.
Earlier this week, the NPD Committee, released a Draft Report on Non-Personal Data Governance (Draft Report). The Draft Report is available on the MyGov Portal, along with a format for submission of formal comments before 13 August 2020.
The Recommendations of the NPD Committee build upon the central objective of leveraging non-personal data towards greater innovation, and value creation, for the benefit of communities and businesses in India. To do this, the Draft Report recommends the operationalisation of several new concepts – including a nomenclature for various types of non-personal data, a "duty of care" standard for the processing of non-personal data, and the concept of beneficial ownership of "community non-personal data" by communities within India.
To kick-start the conversation surrounding the recommendations of the NPD Committee, NASSCOM and DSCI organised an interactive session with the members of the NPD Committee on 16 July 2020. Mr. Gopalakrishnan, Chairperson of the NPD Committee, initiated the conversation with a presentation on the key concepts and recommendations in the Draft Report, before opening the floor for a QnA session with the industry.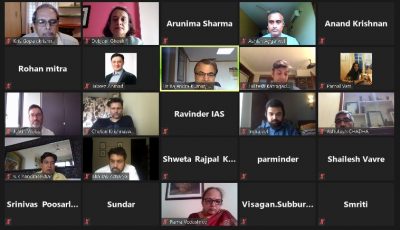 Engaging discussions today at @nasscom–@DSCI_Connect with the Committee on #NonPersonalData. Chair @kris_sg along with @KLalitesh @debjani_ghosh_ @GoI_MeitY AS Dr. Rajendra Kumar @DIPPGOI JS Ravinder @NICMeity Dr. Verma, Parminder Singh, @ponguru interacted with the industry. pic.twitter.com/2wfhi0c16O

— Nasscom Public Policy (@NasscomPolicy) July 16, 2020
The work of the NPD Committee was welcomed and well-appreciated, particularly regarding its emphasis on prevention of harmful processing of NPD, while working to enable wider and open access to NPD. At the same time, feedback received in the course of the interactive session, highlighted concerns of the industry over operationalising some of the recommendations of the NPD Committee.
The NPD Committee took on board the remarks, and urged the audience to submit their detailed feedback, in order to enable the NPD Committee to render more clarity to the framework, as it works to finalise its recommendations.
As a way of carrying the discussion forward, NASSCOM is conducting an industry consultation on the Draft Report. We request you to kindly provide us with your feedback in the attached format, and share it with policy@nasscom.in by 3rd August, 2020.
The post Call for Inputs: NASSCOM Consultation on the Recommendations of the Draft Report on Non-Personal Data Governance appeared first on NASSCOM Community |The Official Community of Indian IT Industry.