---
A free CRM for small businesses: can it work?
Blog: Monday Project Management Blog
CRM stands for "customer relationship management," and CRM tools are designed to do exactly that — help you manage and improve your customer relationships.
If you're on a budget and shopping around for a free CRM, you've probably already found a handful of options.
Finding the right one can feel like a marathon, though, and you're only at mile 10.
Will that free CRM software you're considering have the features you need? How do you choose one that's going to work in the long-term? And will it work with your other tools? Is free really the best option?
To save you the pain of that long final stretch, we're stepping in to help.
In this post, we'll take a look at what a free CRM tool will offer and whether these solutions are a good fit for a small business. We'll also discuss whether using a free CRM tool is the right move to help your company grow.
What does a free CRM do?
To put it simply, a free CRM is meant to do a lot of things.
A CRM solution helps teams manage customer relationships throughout the entire customer life cycle, from marketing and sales to digital commerce and customer service interactions.
The main purpose of CRM software is to help a business owner ace lead generation and client onboarding while better managing the company's relationships with individual consumers.
When leveraged correctly, a CRM solution can help small businesses target new customers, convert leads, and provide customer support and a positive customer experience (CX) throughout.
And, given that 90% of Americans use customer service as a factor in deciding whether to do business with a company, that's a crucial consideration for small- and mid-sized businesses that want to stay competitive.
What does a small business need in a CRM?
CRMs are tools designed to help a business scale without compromising the customer experience. While every company is different, most small businesses need the following CRM features:
Pipeline management tools to organize data about leads and customer interactions
Collaboration features to facilitate remote work with other team members
A centralized platform for storing and accessing customer/sale information
Integrations that allow the team to focus on lead generation and keep in touch with prospects while facilitating easy customer interaction
Live chat capabilities
Lead management, nurturing, and sales tools
Sales automation features to limit the burden of manual work and improve marketing campaigns
Now here's the bad news.
While CRMs are built to offer powerful features, it's virtually impossible to get everything you need from free CRM software.
While you can opt for a free plan from a big CRM provider, you'll need to step up to a paid version sooner rather than later.
That, friends, is why we recommend considering monday.com from the get-go.
Meet monday.com: the do-it-all Work OS for small businesses
monday.com is the solution that your small company needs for its daily business operations.
Because monday.com is a complete Work OS, not just CRM software, you get the whole kit and kaboodle as far as features are concerned.
Here are a few ways we help your small business scale.
The power to customize your CRM
No 2 businesses are the same, so no 2 CRMs should be, either. We offer a flexible drag-and-drop interface with custom automations and integrations that allow you to build a CRM that works for you.
Plus more than 200 fully customizable templates. Check out this Sales Process template, for example: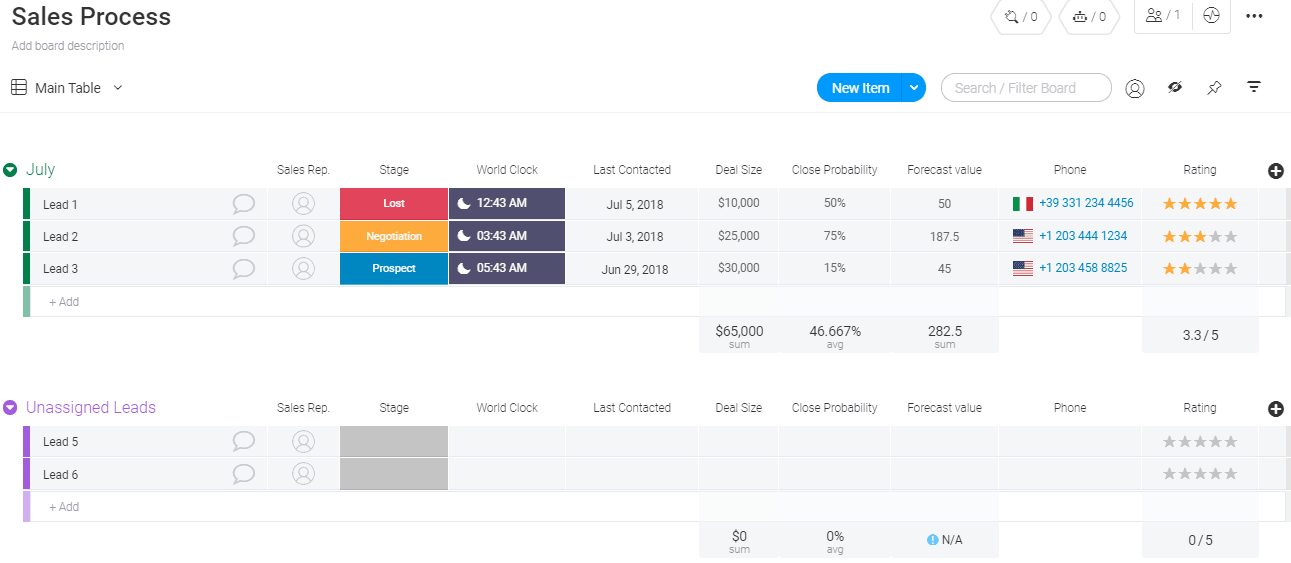 You can easily add, rename, and drag and drop rows and columns as needed, to make it perfectly fit your unique sales funnel.
When your online CRM platform is this flexible, it means the sky's the limit for your company. Our mission is to provide the platform you need to build workflows that support any project, process, or goal.
The whole customer life cycle in one platform
Lots of CRMs can be pretty complex and hard to use, especially if you've never used one before.
Luckily, monday.com does things differently.
We make it possible for teams to manage every single aspect of their business on the monday.com Work OS platform. This includes lead capture, marketing, deal tracking, managing client projects, customer support, and much more.
This visibility is excellent for small teams that don't have the time to fiddle with an unnecessarily complex solution and don't want to manage several different tools.
When your customer data is centralized into a single, convenient platform, it cuts down on inefficient "busy work" and makes every member of your team look (and feel) like an organized superstar.
Flexible, per-seat pricing
We believe you should only pay for what you use and that what you're paying for should support all of your business needs.
To that end, we offer a straightforward, common-sense, per-seat pricing plan designed to suit small businesses in every industry.
If you're looking for a free plan, you can try our free trial for 14 days, after which you can upgrade to one of our paid plans.
During your trial, you'll get full access to our Work OS platform, so you can see precisely how monday.com will support you.
A highly visual dashboard
Have you heard the saying that a picture is worth a thousand words? We take that literally with our highly visual dashboards and 8 different data visualization options, including Kanban, Gantt, map, form, calendar, timeline, and workload.
Our simple CRM's visual interface allows teams to get the entire picture of all their marketing, lead management, sales CRM, and lead gen activities at a glance.
Bonus points? We make that same visual goodness available in a CRM app, so you can take us along anywhere you go.
That's perfect for small teams with a distributed or partially-distributed workforce.
Integrations galore
Most teams already have a few tried-and-true tools that they know and love. Conveniently, monday.com makes it possible to connect your fancy new CRM with the tools you're already using, thanks to more than 50 quality integrations.
HubSpot, Salesforce, Gmail, Google Docs, Outlook, etc. — they all plug into monday.com, no code required.
Choosing the right CRM solution for your small business
While free CRMs sound great, they typically just don't offer the features you need to get any real work done. While you might be able to avoid paying a monthly fee, you'll also miss out on many of the features that make a good CRM so powerful.
Instead of jumping between any online CRM and a free CRM tool that looks promising, it's smart to invest in the right dashboard from the start.
monday.com was built by Agile teams for Agile teams. We understand what small businesses need, and we're here to deliver.
Offering a powerful, customizable, flexible online CRM platform and common-sense, per-seat pricing for small- and mid-sized companies, our comprehensive Work OS is the obvious choice for teams who need to get things done.
Ready to see how it works for you? Hit the ground running with our customizable CRM template.
The post A free CRM for small businesses: can it work? appeared first on monday.com Blog.