---
5 Top Low-Code Development Courses to Enroll in During 2023
Blog: Solutions Review - Business Process Management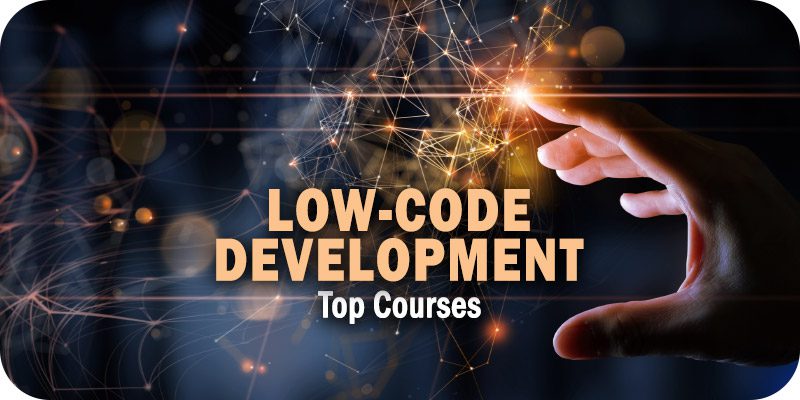 The editors at Solutions Review have compiled this list to spotlight some of the best low-code development courses for active and aspiring professionals to consider if they want to improve their skills. Solutions Review participates in affiliate programs and may make a small commission from products purchased through this resource.
Low-code development platforms provide enterprise and citizen developers with visual-based software they can use to improve how they drag and drag application components, connect them, and use them to create applications. These platforms don't require the user to develop applications with line-by-lines of code, streamlining development and saving developers of various experience levels time and energy. However, even a low-code (or no-code) development project requires specific skills, and it's not always straightforward to know where to start learning those skills.
With that in mind, the Solutions Review editors have compiled a list of top-rated low-code development courses available online. These low-code development courses and training programs are designed for professionals of various experience levels. You can click the GO TO TRAINING link to learn more about each course and register. Each class is listed alphabetically by the name of the online learning platform it's available on.
The Best Low-Code Development Courses to Consider in 2023
---
OUR TAKE: This intermediate-level course will teach you how to use Microsoft Bonsai's low-code capabilities to build, test, and deploy an autonomous AI "brain" into a live environment or machinery control system.
Platform: Coursera
Description: While technically part of the Autonomous AI for Industry Specialization, a three-course certification program, this training program can be taken independently and focuses on providing students with the skills and tools they need to use Microsoft Bonsai to develop an AI "brain." Offered by the University of Washington, this course will walk students through setting up Microsoft Bonsai, deploying it, and using its cloud-based, low-code platform to use machine teaching experiments and simulations to train an AI brain to solve real-world problems.
---
OUR TAKE: If you're looking for a compact introduction to low-code website development, this program from the Coursera Project Network can help. In a short two hours, you'll learn the fundamentals you need to develop a website with Microsoft's Power Pages toolkit.
Platform: Coursera
Description: This two-hour training course is geared toward professionals that want to develop a website but don't have much (or any) frontend development experience. The course will teach learners how to use low-code and no-code technology—courtesy of Power Pages, one of the newer additions to the Microsoft Power Platform solution suite—to create a classic website that can be configured to multiple business use cases. Upon completion, students will know how to create a website outfitted with buttons, links, forms, files, and more.
---
OUR TAKE: This in-depth certification course outlines how to develop a training program that teaches citizen developers to document technical specifications for low-code and no-code applications.
Platform: edX
Description: Offered by The University of Maryland (UMD) and the University System of Maryland (USMx), this certification class can help training professionals learn how to create a program that shows citizen developers how to use essential product development and management concepts. This can help a company scale its development training initiatives in a big way. Topics covered in the four-week program include product lifecycles, citizen-developed apps, product design, the Jobs-To-Be-Done Theory, and more.
---
OUR TAKE: Also offered by UMD and USMx, this three-month professional certificate course will teach you about rapid application development (RAD), its ability to help you develop apps on a low-code/no-code platform, and more.
Platform: edX
Description: Students that enroll in this program will experience a complete low-code/no-code platform lifecycle, improve their ability to lead citizen developers (CD), and learn how to deploy applications that deliver success. The course is geared toward professionals with some low-code development experience but doesn't require any prior coding or programming language skills. Students will also review some of the leading low-code development platforms in the market, including ServiceNow, Appian, OutSystems, Mendix, Salesforce, Zoho, and App Sheets.
---
OUR TAKE: Improve your familiarity with Mendix's low-code application development tools by enrolling in this bestselling course, which has been taken by over 5,000 students and has an average rating of 4.3 stars.
Platform: Udemy
Description: This bestselling program, last updated in July 2022, will walk students through the no-code and low-code tools available on Mendix's integrated platform. The subjects covered in the course include how to set up the Mendix platform, create sales management system pages, edit those pages, generate data, develop mobile pages, utilize microflows, and more. The course includes almost seven hours of video material alongside a handful of additional resources to help students continue their learning.
---
---
The post 5 Top Low-Code Development Courses to Enroll in During 2023 appeared first on Best BPM Tools, Vendors, Software and BPMS.